500,000 creditors, $5 Billion Debt
Crypto Market Week in Review (22 July 2022)
Markets
When Elon Musk Capitulates
This week markets were in a risk-on mode. It is increasingly priced in that central banks will succeed in fighting inflation and so near-term rate hikes will be reversed in the next year. For an illustrative example, on Thursday, bonds rallied in spite of higher-than-expected 50 bp raise of the key rate by the European Central Bank.
Cryptocurrencies soared with Bitcoin advancing above $23 000. This week Bitcoin has traded above the 50-day moving average for the first time since April.
Bitcoin (BTC/USD)
Ethereum was a star of the week among major coins rising by almost 30% since last Friday's close. CoinDesk said that "the Merge trade has begun" after the recent announcement of September 19 as the Merge date by Ethereum Foundation member Tim Beiko. Lido stETH token has eliminated a discount to Ethereum and Lido token itself is up 250% this month.
This week Tesla said in the quarterly report that it had sold 75% of the Bitcoin it had accumulated since the first quarter of 2021. Tesla reported a $106 million loss on the sold Bitcoin while the company has not sold any of its Dogecoin.
In the other news, liquidators overseeing the bankruptcy of Three Arrows Capital have been able to gain control of just $40 million of assets so far. Unsecured credits to the fund are claimed to be at least $2.8 billion, and the liquidators accuse that 3AC's founders continue to hold "certain digital assets and bank accounts". We wonder if the creditors had overlooked covenants in credit agreements written during a crypto boom.
Meanwhile, it looks like a spot rally has attracted significant interest to call options. Ethereum option open interest has reached a new record this week.
Ethereum options open interest

Authorities in South Korea Link 15 Businesses to the Collapse of Terra
According to a Wednesday report from News1 Korea, Prosecutors in South Korea investigating Terraform Labs allegedly conducted a search and seizure of 15 businesses, including seven cryptocurrency exchanges.
The Joint Financial and Securities Crime Investigation Team of the Seoul Southern District Prosecutor's Office forayed the offices of some of the region's prominent exchanges, including Upbit, Bithumb, Coinone, Korbit, and Gopax.
The ecosystem's crash, which saw over 200,000 Korean investors lose money, is being investigated by the country's regulatory body. Reports have it that the authorities have gotten significant data related to the crash.
Over 100 people hired a local law firm, L.K.B. & Partners, to represent them in a suit against Terraform Labs and its co-founder Do Kwon, citing allegations of conscious design of a defective algorithm to attract investors.
The UST and LUNA crash has not only attracted investors' wrath but South Korea's national Tax agency is also believed to have taxed Kwon $78 million for tax evasion. Kwon was also summoned to speak at a parliamentary hearing about the events surrounding Terra's collapse and UST's depegging.
UFC Fighter Dismisses Crypto Volatility; Accepts Salary Payment in Bitcoin
Luana Pinheiro, an Ultimate Fighting Championship (UFC) fighter, has announced a partnership with Bitwage to receive her salary in Bitcoin (BTC). Pinheiro continued that although she continues to receive fiat payments from her sponsors, it is immediately converted to BTC using Bitwage.
With 8 straight wins in her last 8 matches, Pinheiro is currently ranked 15th in her UFC division. The choice to convert her salary to Bitcoin came from her boyfriend and fellow MMA fighter, Matheus Nicolau, who explained and admonished her to do so.
According to her, Bitcoin's volatility suits her fighting style, jiu-jitsu, and this volatility is the primary driver of asset appreciation. With the average time to obtain a Jiu-Jitsu belt in Brazil being 10-15 years, she is choosing to stay in Bitcoin for around the same time frame. A lower price will only give her an extra opportunity to buy at a lower entry price. Looking at the Brazilian inflation, it makes more sense why she wants to get in on Bitcoin. It can serve as a hedge against inflation.
Professional soccer players Alex Barrett, Achara Ifunanyachi, and Alex Crognale, also join Nicolau and Pinheiro to receive their earnings in Bitcoin.
From Bill to Law: Crypto Framework in Paraguay
This Thursday, the Paraguayan Senate passed a bill on a regulatory framework for cryptocurrency businesses and crypto mining companies.
The legislation, put out by Senator Fernando Silva Facetti last July and approved by Congress in May before going to the Senate, proposes the creation of a Ministry of Industry and Commerce (MIC) to regulate companies that provide services to the cryptocurrency industry. The bill is just one step away from being signed into law by President Mario Abdo Bentez.
The measure explicitly relates to crypto mining, commercialization, intermediation, exchange, transfer, custody, and/or administration of crypto assets or instruments that enable control over crypto assets, according to a notice from Congress in May.
As reported by local news source ABC, businesses involved in the cryptocurrency sector will be taxed in the same way as those who deal with securities. The Undersecretary of State for Taxation will therefore exempt them from paying value-added tax (VAT), but they will still be subject to the income tax system.
It is believed that the bill takes into account how crypto miners ought to deal with regional power providers. The National Power Administration (ANDE), Paraguay's national electricity administration, will need to know the energy consumption schedule of any prospective mining operations. ANDE has the right to stop providing electricity to miners if it is discovered that they are using more than anticipated.
Although the bill calls for subsidies for miners' energy expenditures, they would pay a rate that is 15% higher than that of other industries.
Senator Facetti reportedly stated that the changes made to the measure over the previous year "enhanced the basic proposal."
This advances the adoption and regulation of cryptocurrencies in Paraguay, making it the most recent LATAM country to do so. In 2021, El Salvador made Bitcoin (BTC) a legal tender, while countries in Brazil, Argentina, and Panama are all developing their own cryptocurrency laws.
Bitcoin Electricity Consumption Leans More to Sustainability: Bitcoin Mining Council
The second quarter of 2022 ("Q2") survey results were released by the Bitcoin Mining Council (BMC), a voluntary global forum of Bitcoin mining companies and other businesses in the Bitcoin industry. The survey focused on three metrics: electricity consumption, technological efficiency, and sustainable power mix.
By June 30, 2022, the BMC's most recent volunteer sector survey has gathered information from 107.7 exahashes (EH), or more than half of the whole Bitcoin Network.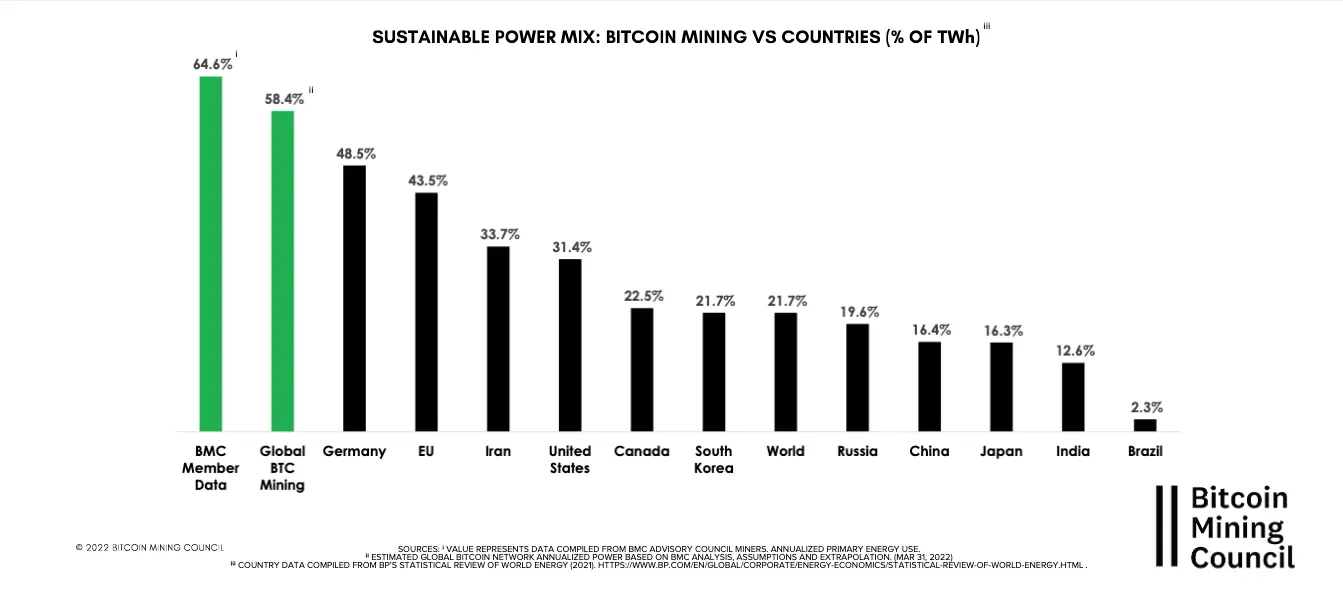 According to the poll's findings, 66.8% of the electricity used by BMC members and survey respondents is now generated by sustainable sources. Based on this information, it is anticipated that the global Bitcoin mining industry presently uses 59.5 percent or had a growth of about 6 percent year over year between Q2 2021 and Q2 2022, making it one of the most environmentally friendly sectors worldwide. Additionally, it is anticipated that the technological efficiency of the global Bitcoin network increased by 46% year over year, rising from 14.4 EH per gigawatt (GW) in Q2 2021 to 21.1 EH per GW.
The BMC was established in May 2021 with backing from several of the biggest Bitcoin mining businesses as well as MicroStrategy and its CEO, Michael Saylor. The publication of this data marks the BMC's fifth quarterly release.
"In the second quarter of 2022, energy usage only climbed by 63 percent while the Bitcoin network's hashrate and related security improved by 137 percent year over year. Due to improvements in semiconductor technology, the quick growth of mining in North America, the exodus of Chinese miners, and the widespread use of sustainable energy sources and contemporary Bitcoin mining processes, we saw an increase in efficiency of 46% year over year, Mr. Saylor said.
The BMC membership hashrate climbed from 37 EH at its founding to 108 EH in Q2 2022, according to Darin Feinstein, a co-founder of Core Scientific and the BMC. With members distributed across 5 continents, the BMC now accounts for 50.5 percent of the whole Bitcoin mining network in just one year.
Celsius Makes a Mining-Focused Reorganization Plan
Celsius has 500,000 creditors owed more than $5 billion, according to attorneys for the company during its first bankruptcy hearing on Monday.
Celsius' liquidity crisis became public on June 12, when the company announced a halt to all customer withdrawals due to "extreme market conditions." Last week, the company formally filed for Chapter 11 bankruptcy protection in the United States Bankruptcy Court for the Southern District of New York (SDNY).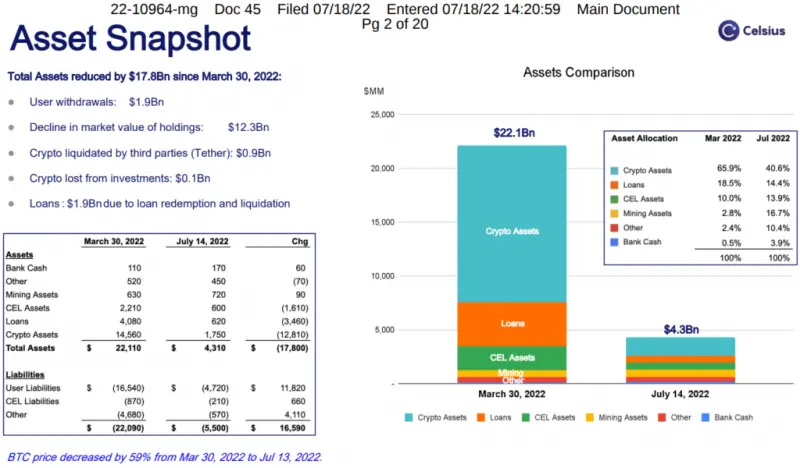 Celsius's situation is not unique: the lender is one of several that have been hard hit by the Terra/LUNA crash, Three Arrows Capital's insolvency, and the ongoing market downturn.
To meet customer withdrawal requests, struggling crypto lender BlockFi obtained a $250 million bailout from crypto exchange FTX; additionally, FTX may be interested in purchasing BlockFi for as little as $240 million more.
For Celsius' debtors, the majority of whom are regular retail investors, court documents depict a troubling picture. Retail depositors who held their cryptocurrency in Celsius accounts would probably be the last to receive payment from the business, which has a massive $1.2 billion hole in its balance sheet (at least). Any attempts by creditors to file a lawsuit are put on hold during a Chapter 11 bankruptcy, often known as a "reorganization bankruptcy," giving the business time to get its finances in order and settle its obligations.
The hearing on Monday and numerous court documents, such as a 61-page declaration from CEO Alex Mashinsky, show that a significant portion of Celsius' strategy to recover its losses is dependent on the anticipated future earnings of its partially completed, wholly-owned mining subsidiary, Celsius Mining.
That mining subsidiary, however, also owes money. On Monday, Celsius' attorneys asked the court to approve spending of more than $5 million to complete the building of the Texas mining center (which, according to Celsius' attorneys, would take about two more months) and to pay duties on mining rigs that are "currently sitting with the customs authorities."
UK Inflation Hits a New 40-year High of 9.4% As the Cost-of-living Crisis Deepens
Inflation in the United Kingdom increased to a 40-year high in June as food and energy costs increased even further, worsening the nation's long-standing cost-of-living crisis.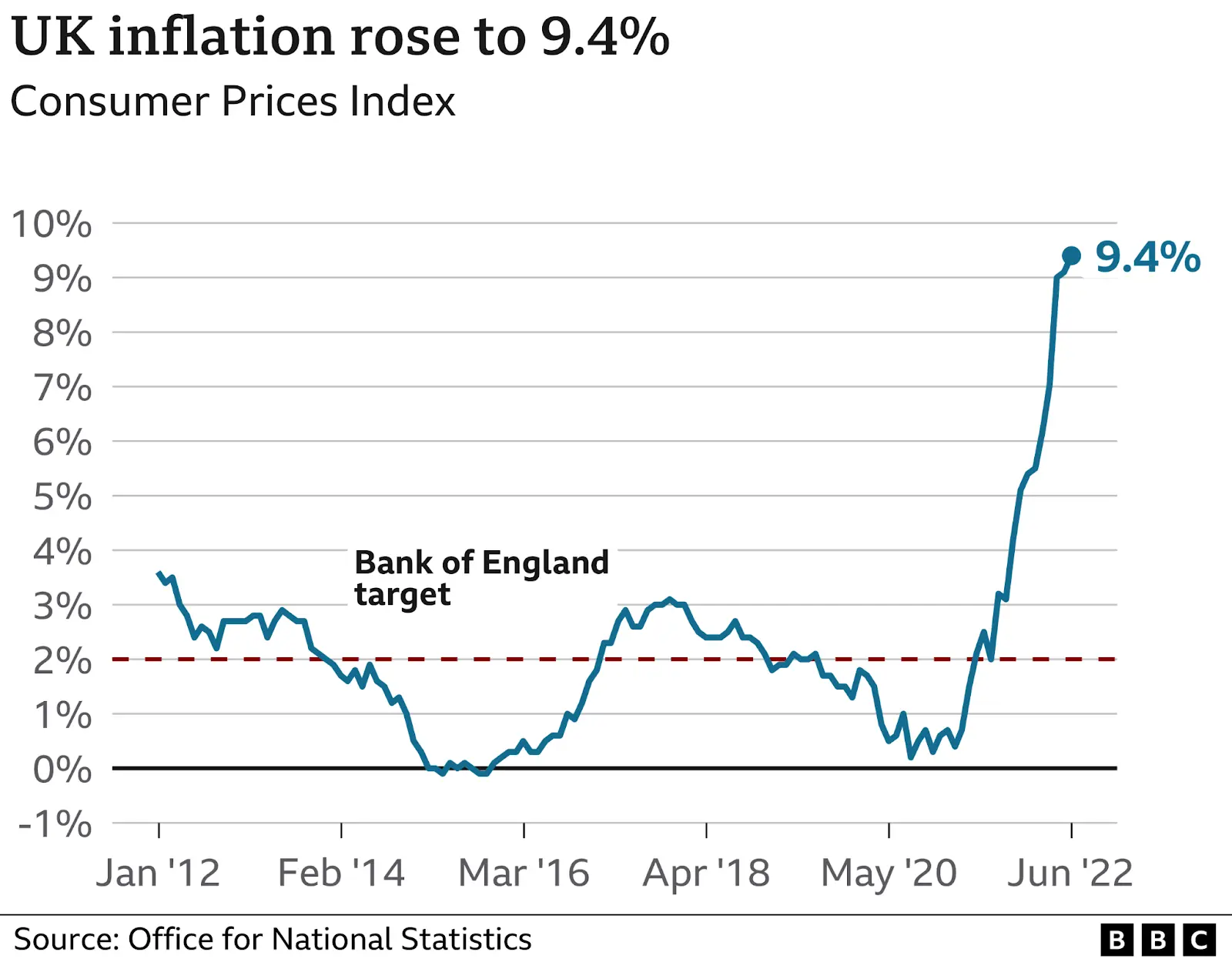 According to estimates released on Wednesday, the consumer price index increased by 9.4% annually, up from 9.1% in May. This is somewhat higher than the consensus expectation among analysts surveyed by Reuters.
Consumer prices increased by 0.8 percent on a monthly basis, outpacing the 0.7 percent rise from the previous month but falling short of the 2.5 percent jump from April.
According to the UK.'s Office for National Statistics, estimates for consumer price inflation from its indicative model range from nearly 11 percent in January to roughly 6.5 percent in December "suggest that the CPI rate would last have been higher around 1982," according to the report released on Wednesday.
The ONS reported that motor fuels and food were the two main factors behind the growing inflation rate, with the former climbing 42.3 percent on the year, the greatest rate since before the created historical series began in 1989.
What next?
In an effort to contain inflation, the Bank of England has raised interest rates five times in a row by 25 basis points. However, Governor Andrew Bailey stated during a speech at the Mansion House Financial and Professional Services Dinner on Tuesday that the Monetary Policy Committee might take a 50 basis point hike into consideration at its August policy meeting.
There would be "no ifs or buts" in the Bank's pledge to bring inflation back to its 2 percent target; this would be the UK's largest single increase in interest rates in almost 30 years. Several potential candidates from the Conservative Party who want to succeed Boris Johnson as prime minister have publicly criticized the governor.
Despite this, recent data indicate a still-hot labour market that is adding to domestic inflationary pressures, so the Bank of England is likely to continue in uber-hawkish mode as it strives to counter the potential of a wage-price spiral emerging.
*This communication is intended as strictly informational, and nothing herein constitutes an offer or a recommendation to buy, sell, or retain any specific product, security or investment, or to utilise or refrain from utilising any particular service. The use of the products and services referred to herein may be subject to certain limitations in specific jurisdictions. This communication does not constitute and shall under no circumstances be deemed to constitute investment advice. This communication is not intended to constitute a public offering of securities within the meaning of any applicable legislation.