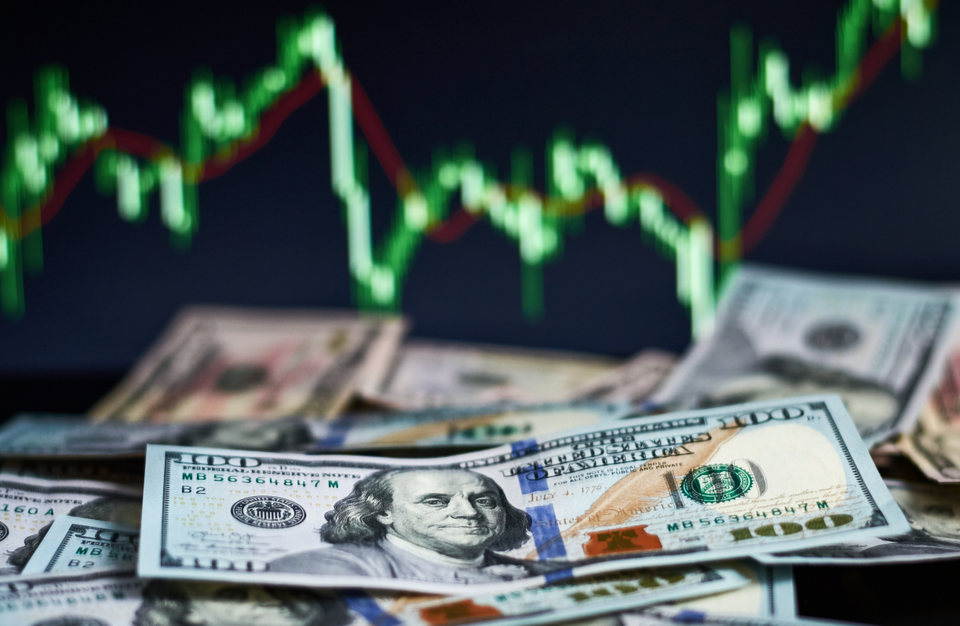 The US employment data published last Friday changed the narrative of a monetary policy reversal, as a very tight labor market poses a threat of higher inflation via higher employment costs. This week's speeches by the Federal Reserve's Powell and Williams were not as hawkish as some experts had feared, but the market nevertheless repriced the expected rate path higher. Bond prices declined, but stocks were relatively resilient. Tesla continued its epic recovery, nearly doubling from its January low.
Tesla share price (USD)
Source: TradingView
The most interesting story in the stock market this week was the AI battle between Microsoft and Alphabet (Google). Being a co-investor in ChatGPT, Microsoft decided to utilize its epic success by integrating the bot into Bing search. Microsoft stock rose by 4% on the news. Google saw it as an existential threat to its near-monopoly in search and replied with its own AI bot called Bard. However, Bard was found way less competent than ChatGPT, slamming Alphabet stock. The stock plunged 12% in 2 days after Bard's presentation.
Cryptocurrencies declined, mostly reflecting negative sentiment about possible regulatory actions. Bitcoin and Ethereum dropped by 7-8% since the last Friday.
Bloomberg reported about the escalating war of words between Coinbase and the US Securities and Exchange Commission, as Coinbase's head Brian Armstrong publicly argued against a possible ban on crypto staking by retail investors. "I hope that's not the case as I believe it would be a terrible path for the U.S. if that was allowed to happen," Brian Armstrong tweeted referring to the ban. The SEC repeatedly said that cryptocurrencies should be treated like securities, particularly if they provide a yield. Coinbase shares fell on the news.
The implied volatility of both Bitcoin and Ethereum declined this week, almost returning back to the year-end levels. Bitcoin volatility curve turned flat from an inverted form after the US labor market data was published on Friday.
Bitcoin DVOL index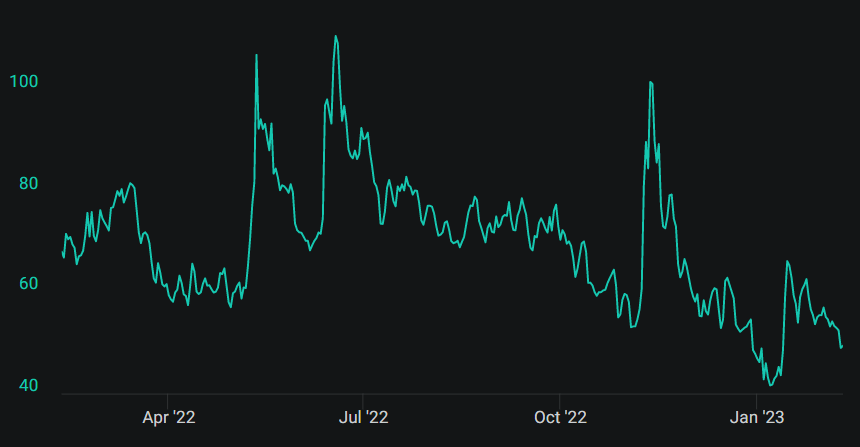 Source: Deribit
*This communication is intended as strictly informational, and nothing herein constitutes an offer or a recommendation to buy, sell, or retain any specific product, security or investment, or to utilise or refrain from utilising any particular service. The use of the products and services referred to herein may be subject to certain limitations in specific jurisdictions. This communication does not constitute and shall under no circumstances be deemed to constitute investment advice. This communication is not intended to constitute a public offering of securities within the meaning of any applicable legislation.