Disinflation Does Not Help Anymore
This week, markets were mixed as both stocks and bonds were little changed. Technology stocks continued to slightly underperform broad indexes. The crucial US inflation data came in slightly better than forecast, but its positive impact on the markets was limited. When the data was published on Thursday, both stocks and bond prices initially rallied, but later in the day, the US stock indexes lost most of their intraday gains, and bond prices dropped due to a weak auction of 30-year US Treasuries.
The star of the week was the obesity drug producers. Novo Nordisk A/S, a Danish pharma giant and the second-largest European company by market cap, rallied by 16% thanks to the news that its blockbuster obesity drug helps to reduce heart stroke risks. Eli Lilly and Company, which is the largest US pharma company by market cap and the second player in the duopoly of the obesity drug market, soared together with Novo Nordisk A/S. We wonder if the obesity drugs will replace artificial intelligence as the hottest trade in the stock market.
Novo Nordisk A/S ADR (USD)

Cryptocurrencies traded sideways with both Bitcoin and Ethereum seeing about a 1% increase since last Friday's close. XRP stabilized after its drop last week, despite news that the US regulator will appeal a court decision favorable to XRP. The OKX exchange token (OKB) rallied 9%, reaching its highest level since April.
The implied volatility of both Bitcoin and Ethereum traded sideways, mirroring the spot prices, and remained near all-time lows. The implied volatility for Bitcoin, and to a lesser extent for Ethereum, rallied on Tuesday, likely due to news of Moody's downgrading the credit rating of several US regional banks. However, it fell back after the news failed to spark renewed fears about US regional banks. Ethereum's implied volatility underperformed, falling significantly below that of Bitcoin (as measured by DVOL indexes), with the current ratio at about 0.92.
Option open interest continued its recovery. We note a significant imbalance in Ethereum option trading, favoring calls over puts, as 73% of regular trades in Ethereum options at Deribit related to calls in the last 7 days.
Ethereum option regular trade breakdown for the last 7 days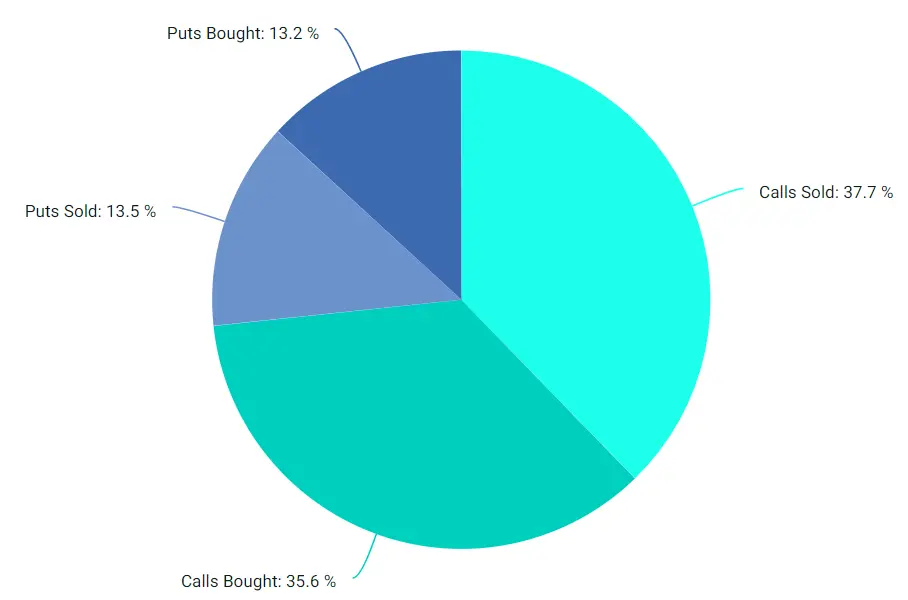 *This communication is intended as strictly informational, and nothing herein constitutes an offer or a recommendation to buy, sell, or retain any specific product, security or investment, or to utilise or refrain from utilising any particular service. The use of the products and services referred to herein may be subject to certain limitations in specific jurisdictions. This communication does not constitute and shall under no circumstances be deemed to constitute investment advice. This communication is not intended to constitute a public offering of securities within the meaning of any applicable legislation.