ETH's Record Open Interest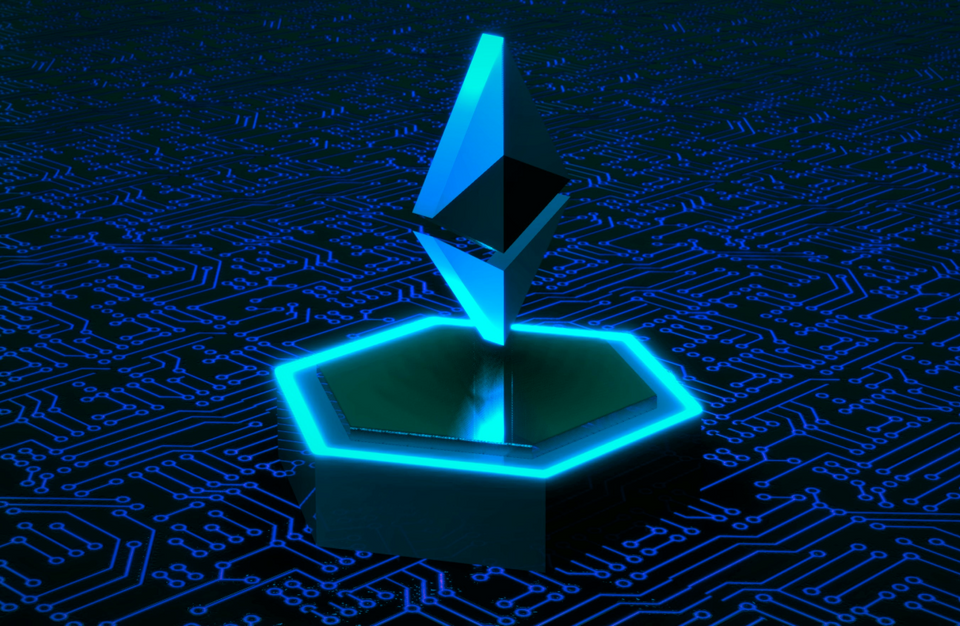 Crypto Market Week in Review (29 July 2022)
Markets
The Federal Open Market Committee met on Wednesday to initiate a third 75 BPs rate hike in three months. With the news priced in, Bitcoin rallied to $24,000, and Ethereum touched $1700 for the first time in 40 days.  
Elsewhere in the crypto space, trading volume on DEXs hit the lowest point in 2022, with NFT marketplaces crashing even harder.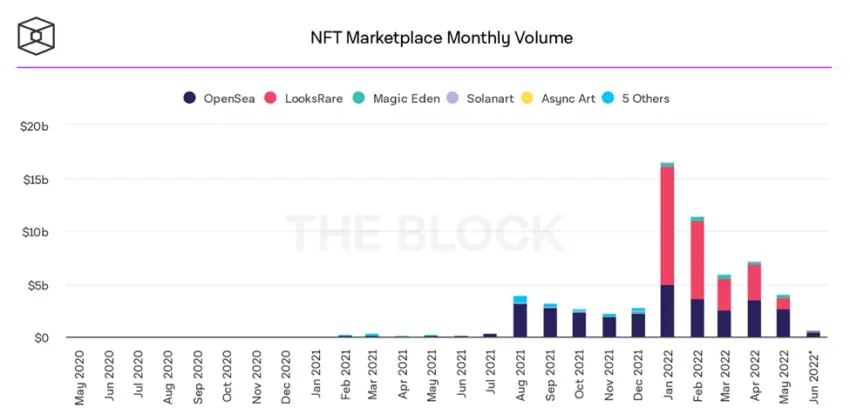 Ethereum Merge
In an interview with Bankless, Vitalik Buterin explained that the Ethereum merge has not been priced in. In the interview, Buterin talked on several issues surrounding the Ethereum blockchain, but primarily, his reference to the issue of energy efficiency showed that people frequently have misconceptions about how much energy Ethereum uses and how the protocol will alter following the Merge. He stated, "In terms of narrative, I don't think it's going to be priced in until after it happens."
ETH Interest
Options traders were caught off guard by the rally in crypto prices, which caused over $200 million in liquidations on short trades and some $175 million on long trades.
The number of open positions in Ether's options market has reached a record high as an updated timeline for Ethereum's long-awaited Merge switch in protocols has spurred demand for call options.
Over a Quarter of Asian Pacific 'emerging Giant' Startups Are Blockchain-related
A significant commercial shift is taking place in the Asia Pacific area despite a decline in venture capital investment from the previous year. Over a quarter of the 6,472 Asian Pacific companies surveyed for a report by Big Four accountant, KPMG, and global banking giant HSBC had a blockchain-related focus.
Sectors, where Asian Pacific "rising giants" were involved, were dominated by nonfungible tokens (NFTs), which were closely followed by decentralised finance (DeFi). Robotic processing automation, quantum computing, and infrastructure for electric vehicle charging completed the top five categories.
Decentralised autonomous organisations (DAOs) and blockchain real estate were ranked 14th and 15th on the same list, respectively.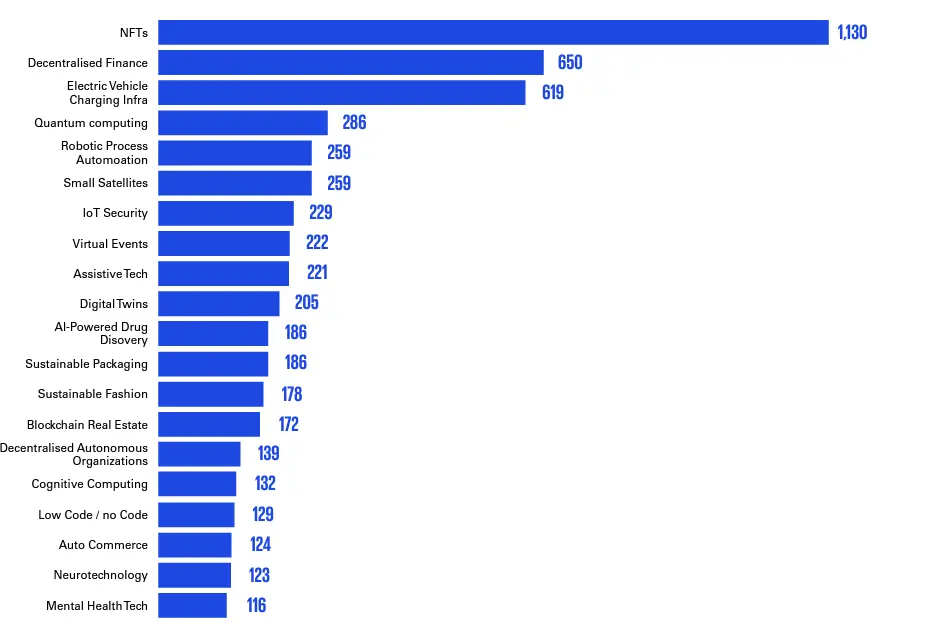 Despite having a significant industry presence, blockchain-related businesses were more prevalent at the lower levels. Only five of the top 100 emerging companies were blockchain-related, and just one—the play-to-earn platform Catheon Gaming—ranked in the top 10 and is based in Hong Kong.
The 12 Asian Pacific nations examined in the report made up 94.8% of all the enterprises polled. India and Mainland China together accounted for 32.8% and 30.1% of all new technology enterprises. Australia (8.7%) and Japan (12.7%) came in third and fourth, respectively.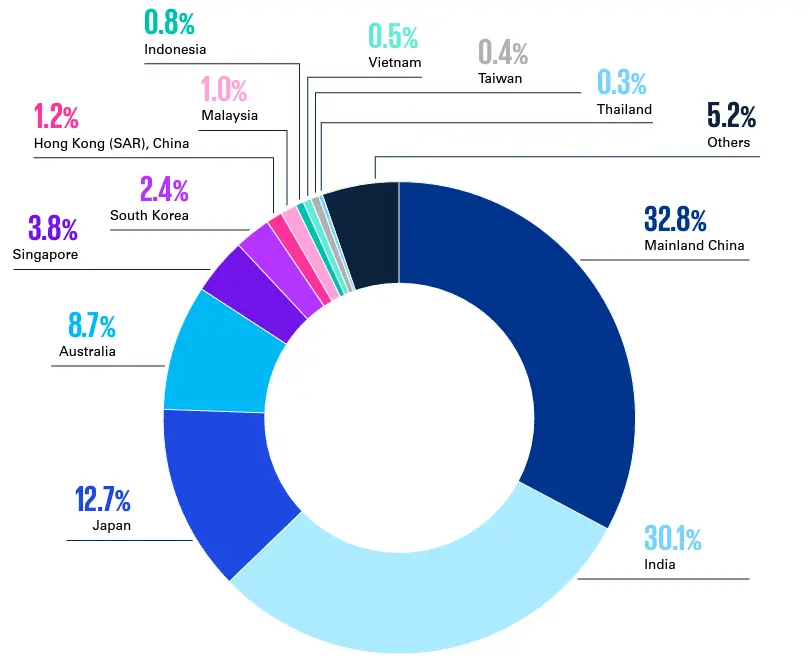 According to the report:
"The continuing growth of Asia's middle classes, and especially the emergence of Gen Z consumers, will be the biggest single factor driving digital economies across the region. But […] Asia's more prosperous, aging societies, too, will also be rich sources of innovation."
The report observes that "the most successful organizations are focusing on local specialities," mentioning "China's strengths in piloting and testing digital platforms" as an illustration. Despite the country's restriction on cryptocurrency trading, more than 4.5 million businesses in China accept the central bank's digital currency, the e-CNY. India, on the other hand, permits cryptocurrency trading but has made life difficult for dealers with a harsh tax structure.
Barclays Invests in $2 Billion Cryptocurrency Firm Copper
According to reports from Sky News, the largest international bank in the UK, Barclays, has closed a long-running negotiation with investors in the round that had been postponed since November by investing in cryptocurrency custody startup Copper's most recent round.
According to the report, Barclays made an undisclosed investment totaling "millions of dollars" as part of the round. The funding's completion is anticipated in the upcoming days.
This brings to an end a delay of more than nine months for Copper's $500 million Series C investment round, for which a $3 billion value was sought. That amount has been decreased to $2 billion due to a weakening cryptocurrency market and diminishing investor enthusiasm.
In 2015, Barclays encouraged charities to accept the emerging asset class as a form of gift, becoming the first bank in the UK to support cryptocurrency, specifically Bitcoin. Since then, the bank has had a troubled history with the sector, including refusing to work with dominant exchange operators Binance and Coinbase.
Delays brought on by Copper's dispute with the UK's Financial Conduct Authority regarding the nation's Temporary Registration Regime had complicated investor negotiations, particularly with Tiger Global, a repeat investor.
Dmitry Tokarev founded Copper in 2018, which offers institutional investors custody, prime broking, and settlement services. In June of last year, the company completed a $50 million Series B investment round with an undisclosed valuation.
The University of Tokyo to Offer Courses in the Metaverse
A variety of study programs in the Metaverse will be made available by the University of Tokyo, also known as Todai, later this year.
The classes will be available to students from high school through adult learners in the workforce, according to a Saturday article from the local news source, The Asahi Shimbun.
Todai's project aims to address the shortage of qualified workers in the fields of "digital transformation" and "advanced technologies."
In addition, university representatives stressed that learning information science and engineering in the metaverse will enable "anyone, regardless of age, gender, socioeconomic position, and location of residence" to do so.
Although cryptocurrency and nonfungible tokens (NFTs) weren't specifically mentioned, it's possible that there will be some mention of blockchain-based platforms given that the industry is frequently linked to the metaverse and has a number of well-known metaverse companies.
Students in junior high and high school will be given an overview of the topic and instructed on possible career paths in engineering, science, and other related fields. They will learn the material through a combination of online and in-person lessons.
With Bitcoin Integration Plans in Motion, Rio De Janeiro Forges Ahead
Andrea Senko, the city of Rio de Janeiro's secretary of finance and planning, recently disclosed in an interview that her team is attempting to promote the use of Bitcoin (BTC) by including it in the city's treasury portfolio.
Senko thinks Rio de Janeiro can establish itself as a top destination for cryptocurrency fans (from all over the world) by incorporating Bitcoin into its financial, social, and technological infrastructure and becoming Brazil's leading crypto hub. The Municipal Committee for Crypto Investments (CMCI), which plays the following roles, was created by the city administration to support these initiatives.
She stated that the decision to spend 1% of the mayor's treasury on Bitcoin will be taken in consultation with top economists and market analysts in order to identify and take into account any potential future swings and hazards.
While Rio de Janeiro appears to be moving quickly to adopt Bitcoin, no other Brazilian local government has expressed any interest in trying out this experiment.
On a national scale, the lone initiative has gained some traction. The central government of Brazil just released a thorough paper explaining a 0% tax on the import of Bitcoin mining equipment, with the one requirement that it be entirely powered by renewable energy.
Given its abundance of hydroelectric electricity, Brazil currently has one of the largest green energy matrices (power grids) in the world. Therefore, more crypto-focused legislation may in the short to medium term aid in releasing the nation's mining potential.
Audius Hacked: Attackers Cart Away with $6 Million
Audius, a decentralised music streaming service, was attacked on July 23 when a hacker took advantage of a flaw in the code of its governance smart contract. The attacker took more than 18.5 million AUDIO tokens, the platform's native cryptocurrency, valued at about $6.05 million at the time, according to Audius' analysis of the theft.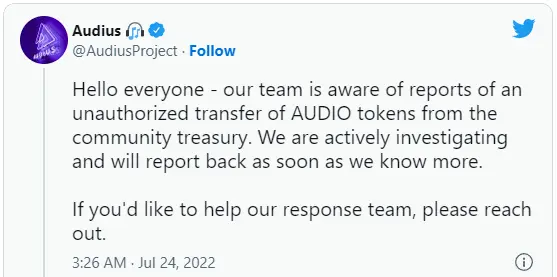 According to Audius' post-mortem of the incident, the hacker discovered a hole in the contract initialisation code that enabled the attacker to change the governance, staking, and delegation contracts of Audius. Decentralized platforms can perform tasks independently of a centralized entity thanks to smart contracts, which are pieces of computer code.
The attacker attempted to delegate 10 trillion AUDIO tokens twice to their wallet through the use of the hack to redefine voting on the Audius protocol and pass governance proposals. According to the report, the attacker's initial attempt was unsuccessful, but his second malicious application was approved.
Using an Ethereum wallet, the attacker could transfer 18,564,497 AUDIO tokens from the community treasury.
According to blockchain information from the attacker's wallet, the attacker later exchanged the stolen tokens for 704.17 Ether (ETH), which was worth over $1.09 million on the decentralised exchange Uniswap.
More than a half-hour after the attacker's initial attempt to delegate 10 trillion AUDIO tokens, the Audius team was first made aware of the exploit. In less than an hour Audius released a preliminary fix. The site is currently updating all of its contracts; thus, some features are still inaccessible.
The OpenZeppelin team reviewed the exploited contracts twice over two years, yet the flaw went undetected, according to the Audius report.
*This communication is intended as strictly informational, and nothing herein constitutes an offer or a recommendation to buy, sell, or retain any specific product, security or investment, or to utilise or refrain from utilising any particular service. The use of the products and services referred to herein may be subject to certain limitations in specific jurisdictions. This communication does not constitute and shall under no circumstances be deemed to constitute investment advice. This communication is not intended to constitute a public offering of securities within the meaning of any applicable legislation.