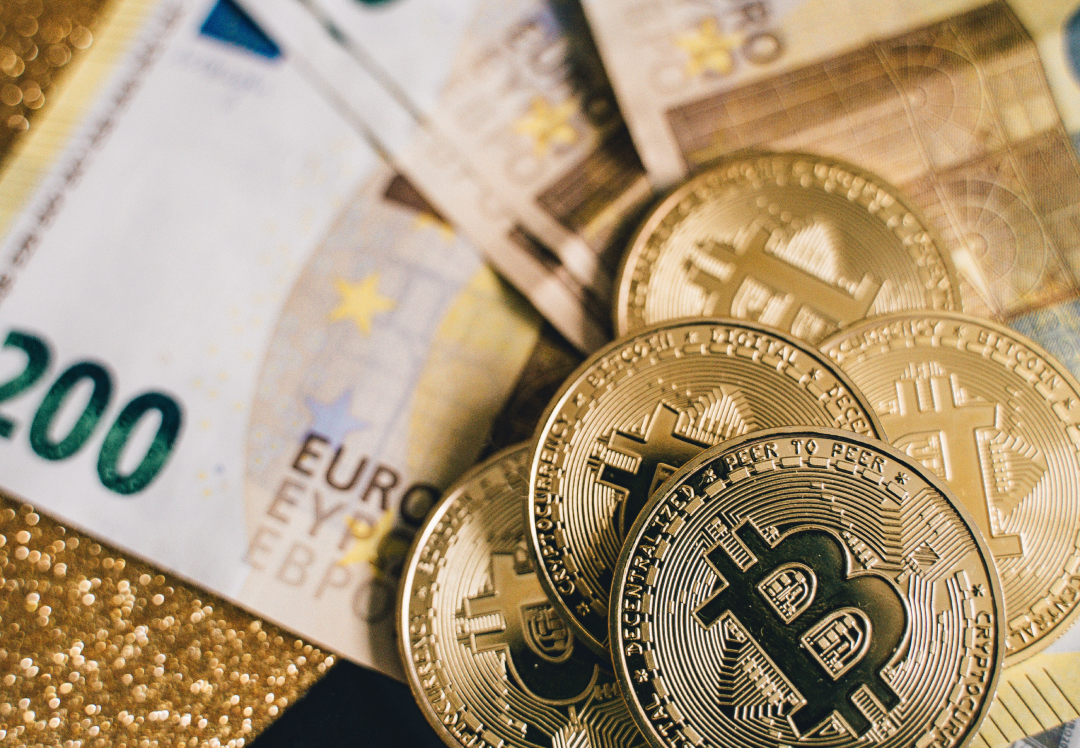 Crypto Market Week in Review (8th of July 2022)
Markets
Voyage to Chapter 11
This week markets switched to a classic risk-on mode with stocks rising and bonds falling. US dollar has continued to increase and reached the highest level in 20 years versus major currencies.
Exchange rate of US dollar to major currencies (DXY index)

Cryptocurrencies were among a small number of currencies that appreciated against the US dollar. Bitcoin reclaimed the $21 000 mark, with Ethereum faring even better and rising above $1200. Crypto gains look particularly encouraging taking into account another high-profile insolvency. Voyager Digital filed for Chapter 11 bankruptcy protection as a result of Three Arrows Capital's default despite the earlier bailout provided by Alameda Research. On June 18 Alameda Research lent almost $500 million to Voyager.
US regulators are reportedly probing how Voyager marketed itself. We wonder if there is any way to find its advertisement perfectly legal.
Voyager Digital website advertisement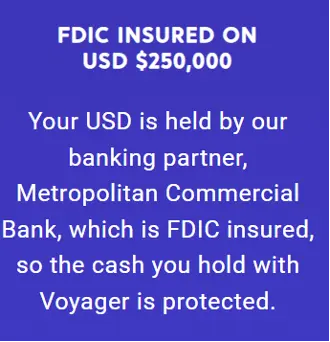 Implied volatility of Bitcoin and Ethereum options as measured by DVOL indexes declined as spot prices rose.
Bitcoin spot price and volatility index (DVOL)

Ethereum spot price and volatility index (DVOL)

Investors are seemingly much more afraid of a possible downside move of Bitcoin than Ethereum.
Bitcoin and Ethereum open interest put/call ratio

The Central African Republic Launches a National Cryptocurrency Called 'Sango Coin'
In a virtual event webcast on Sunday, Central African Republic (CAR) President Faustin-Archange Touadéra introduced Sango Coin as the nation's cryptocurrency.
The virtual event tagged "Sango Genesis Event" saw the president outline strategies for using cryptocurrencies like Bitcoin.
President Touadéra said in his address that the "Sango Coin will be the next-generation currency for [the] Central African Republic."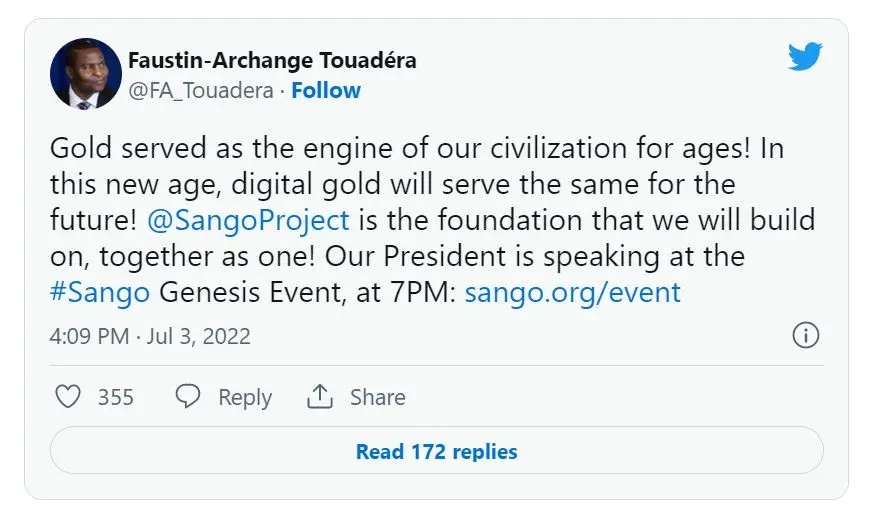 Sango Coin will serve as the "portal to the natural resources of the Central African Republic," according to President Touadéra. The government of CAR previously declared ambitions to tokenize the nation's natural resources, especially copper, diamonds, and oil.
The nation's finance minister, Hervé Ndoba, declared that Bitcoin backs the local cryptocurrency. However, the precise makeup of Sango Coin's Bitcoin backing remains unknown. In April, the landlocked African nation became the first on the continent to accept Bitcoin as legal tender.
Besides launching Sango Coin, the Touadéra administration claims it wants to overhaul the nation's digital infrastructure by implementing blockchain technology for various purposes like its land register system.
Major Crypto Hardware Wallet Company Sells 2 Million Products per Day Amid Exchange Outflows
According to blockchain analysis company Glassnode, the 2022 bear market is the worst ever recorded. However, not every participant in the cryptocurrency ecosystem has been harmed by the bear market. The enormous volume of cryptocurrency withdrawals from centralized exchanges appears to be helping hardware wallet suppliers.
According to Pascal Gauthier (CEO of Ledger), during the 2018 crypto winter, the company's revenue decreased by around 90%, but 2022 has been a different year. He said the company's revenue peaked at $2 million a day selling hardware wallets. Pascal linked the increase in the sale of hardware wallets to the increased market irrationality. Users are moving their funds to more secure devices in response to the meltdown of some of the centralized crypto platforms.
Not just Ledger, but other manufacturers of hardware wallets, have seen increases in sales during this downturn. Trezor has experienced a huge increase in interest in its products. According to a Bitcoin Analyst at Trezor, Josef Tetek, people are naturally looking for self-custody options as they saw the problems of Celcius and the likes.
Another provider of hardware wallets, GridPlus has also noticed an increase in purchases, which is mostly driven by the nonfungible token (NFT) community. Hardware wallet GridPlus CEO Justin Leroux noted that despite increasing production, the company has recently had trouble keeping up with client demand.
The Italian Government to Fund Blockchain Projects with up to €46 Million
The Italian Ministry of Economic Development stated that some blockchain projects would be eligible to apply for up to €46 million in government subsidies starting in September.
On Tuesday, the Ministry of Science and Technology announced that companies and public or private research organizations could apply for government funding to develop initiatives linked to artificial intelligence, the internet of things, and blockchain technology.
As part of the Italian government's objectives for investments in technology, research, and innovation, the fund will have an initial budget of 46 million euros for costs and expenses ranging from 500 thousand (worth $512,150) to 2 million euros ($2,048,600).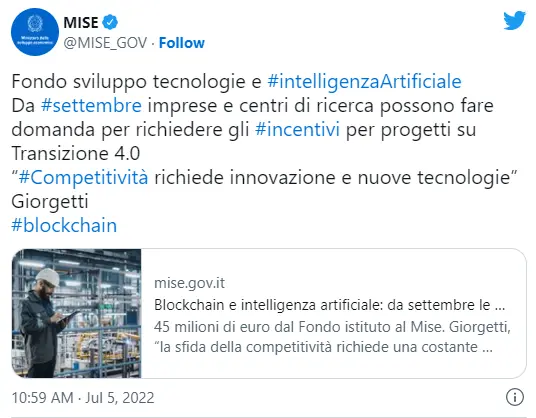 The government's decision was made feasible by a decree issued in December 2021 that established the fund's eligibility requirements. A subsequent one issued in June 2022 specified the requirements for applying for funding. The order states that businesses of any size can apply for subsidies as long as the money will be used for blockchain, IoT, or artificial intelligence in fields including manufacturing, tourism, healthcare, the environment, and aerospace.
USD Stablecoin Premiums Surge in Argentina Following Economy Minister's Resignation
The surprise departure of Martin Guzman, Argentina's Economy Minister, caused the price of stablecoins tethered to the US dollar to rise across exchanges on Saturday.
Argentina has one of the highest rates of crypto adoption in the world due to a faltering economy with a currency prone to high inflation. It now faces further instability due to the minister's abrupt resignation, which was announced on Sunday via a seven-page statement on his Twitter account.
The price to purchase Tether (USDT) using Argentine pesos (ARS) is currently 271.4 ARS, as seen on Criptoya. This price is approximately 12 percent higher than before the resignation announcement and 116.25 percent higher than the current fiat exchange rate of USD/ARS.
Similar increases have been noted in other USD-pegged stablecoins, such as Dai (DAI), Binance USD (BUSD), Pax Dollar (USDP), and Dollar on Chain, according to a local cryptocurrency price tracking website (DOC).
Argentineans are investing heavily in cryptocurrencies to protect themselves against rising inflation and further depreciation of the peso relative to the US dollar.
In 2016, before inflation had a significant impact, one USD could only buy about 14.72 Argentine pesos. Six years later, though, one USD can purchase up to 125.5 ARS.
Decree No. 609/2019, a law enacted on September 1, 2019, has made it nearly impossible for Argentinians to convert more than $200 in dollars per month at the official exchange rate due to the additional premium on U.S.-dollar pegged stablecoins.
It was implemented to stop the Argentine peso from plummeting precipitously in the face of a faltering economy. According to Trading Economics, the annual inflation rate in Argentina increased for the fourth consecutive month in May, reaching 60.7 percent.
Voyager Digital Declares Bankruptcy; Suffers from Overexposure to 3AC
Crypto platform Voyager Digital has filed for bankruptcy under Chapter 11 in the Southern District Court of New York, days after it halted trading, withdrawals, and deposits.
After the US holiday on July 4, the beleaguered cryptocurrency exchange&staking provider lost little time declaring bankruptcy on Tuesday. Voyager said that the change is a part of a "Plan of Reorganization" in a statement on Wednesday. When the plan is implemented, customers will be able to access their accounts once more, and Voyager will "restore value to customers."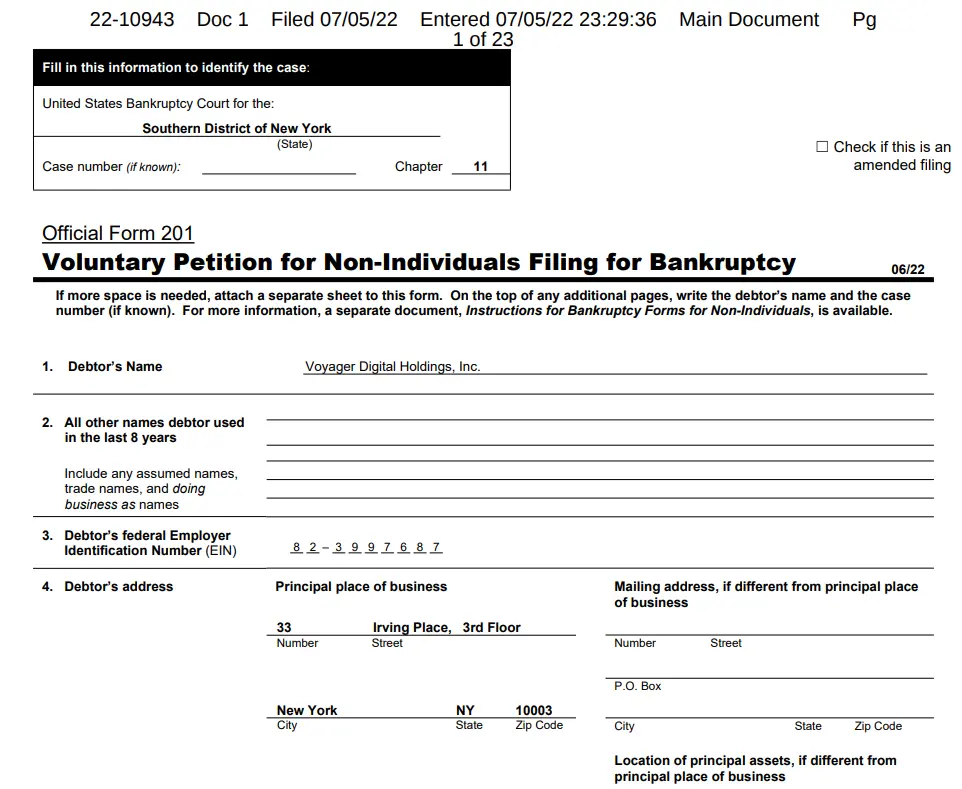 Voyager CEO described its proposed strategy, under which clients holding cryptocurrency in their accounts would receive a mix of cryptocurrency, money recovered from Three Arrows Capital (3AC), common shares in the newly reformed business, and Voyager tokens.
He also added confirmation that customers with U.S. dollars in their accounts would be able to access those funds after a "reconciliation and fraud prevention process" is completed with Metropolitan Commercial Bank.
Ehrlich claimed that the decision would protect platform assets and that Voyager would continue to operate. After considering all relevant aspects, he believed Chapter 11 was his clients' best course of action.
Voyager stated it plans to pay its staff and continue its "principal benefits and specific client programs without disruption." However, trading, deposits, withdrawals, and loyalty incentives will be halted.
After the lending platform got into a $500 million loan deal with trading firm Alameda Research to offset losses from its exposure to cryptocurrency venture capital firm 3AC, there were indications that Voyager and its clients were facing difficulties.
Voyager may find it challenging to recoup the money it paid out because Three Arrows Capital is apparently facing Chapter 15 bankruptcy proceedings and has been ordered to be liquidated by the British Virgin Islands.
*This communication is intended as strictly informational, and nothing herein constitutes an offer or a recommendation to buy, sell, or retain any specific product, security or investment, or to utilise or refrain from utilising any particular service. The use of the products and services referred to herein may be subject to certain limitations in specific jurisdictions. This communication does not constitute and shall under no circumstances be deemed to constitute investment advice. This communication is not intended to constitute a public offering of securities within the meaning of any applicable legislation.