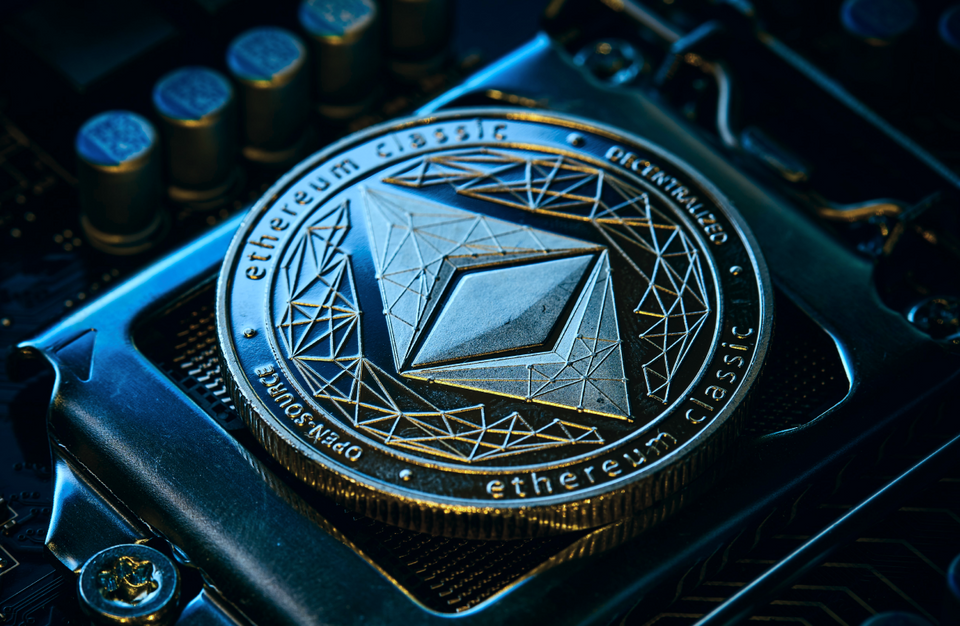 Crypto Market Week in Review (09 September 2022)
Markets
Back to the Classics
This week's markets were in a risk-on mode, recovering after the previous week's losses. A "Goldilocks' job report published last Friday showed that the labor force increased, potentially spurring further wage growth and domestic inflation. Ironically, in markets like that people have to work more because inflation erodes their salaries and savings.
In the meantime, cryptocurrencies were mixed, with altcoins outperforming since last Friday's close. Bitcoin declined, but Ethereum advanced as the Bellatrix upgrade preparing Ethereum for the Merge was completed. The upgrade caused a spike in missed blocks number, but the network participation rate was about 95%. Shortly before the Bellatrix upgrade, Ethereum Classic rallied by 26% in a day.
Ethereum Classic (ETC/USD)
The hashrate of Ethereum Classic soared to an all-time high.
Ethereum Classic hashrate (Th/s)
Despite the Merge scheduled for the next week, the implied volatility of Bitcoin somewhat increased while the implied volatility of Ethereum changed very little.
Bitcoin volatility index (DVOL)
Ethereum volatility index (DVOL)
In other news, Binance announced a mandatory conversion of users' stablecoins USD Coin (USDC), Pax Dollar (USDP), and True USD (TUSD) into its own Binance USD (BUSD). Binance said that the unprecedented move is intended "to enhance liquidity and capital efficiency for users", although it's more likely to increase only its own liquidity and capital efficiency.
Celsius Co-founder Files 'Declaration of Worthlesess'
A legal firm, Kirkland & Ellis LLP, submitted a declaration to the United States Bankruptcy Court on Monday on behalf of Celsius Co-Founder Daniel Leon. The report of the declaration confirms his status as a substantial shareholder and states that his 32,600 common shares are currently regarded as worthless.
A stock or common share is generally declared to be "worthless" when shareholders believe they won't get any future payout for their ownership. If a taxpayer can demonstrate that an asset had value at the end of the year prior to the deduction year and that an identifiable event resulted in a loss in the deduction year, the IRS deems the security to be worthless.
In a Monday Twitter post, the CEO of BnkToTheFuture, Simon Dixon, made the assertion that the declaration renders Celsius Network private equity shares "officially worthless" and that the co-founder intends to claim them as a tax deduction.
According to the Tuesday report submitted to the US Bankruptcy Court, Celcius has a little over $111 million in cash. With its current burn rate, that figure is expected to be at $42 million by the end of November.
Ethereum's Bellatrix Upgrade Experiences a Noticeable Glitch
On Tuesday, the Bellatrix upgrade that was preparing Ethereum for the Merge encountered some glitches as it had about one missed block out of every ten blocks validated during its last 600 slots.
According to Adam Cochran, a partner at Cinneamhain Ventures, the issue was birthed as 5% of the validators went offline during the fork. This increased the missed block rate to 9%, which, when put in perspective, dwarfs the network's historical 0.5% missed block rate. He continued by saying the glitch would be fixed before the actual merge comes up next week.
Another respondent, the founder of Daily Gwei, said 5% is a reasonable percentage and an "excellent result, and there's not really much that can go catastrophically wrong."
"Though if we see things like validators dropping off the network due to configuration issues, missed blocks/slots, or some clients having major bugs, these things wouldn't be cause for major concern as they are relatively easy to recover from," he added.
Still, all eyes are on Ethereum and its core development team, anticipating the PoS switch on the 17th of September.
Crypto Researcher Gathers $100,000 in Fake Investment Plot
Crypto influencer FatManTerra claims to have amassed over $100,000 in Bitcoin (BTC) from cryptocurrency investors in a fictitious investment plan aimed at warning the crypto market against 'free money.'
The Twitter account, which has over 100,000 followers, is best known for being a previous supporter of Terra who now publicly criticizes the project and its creator, Do Kwon, in the wake of its $40 billion collapse in May.
FatManTerra tweeted on Monday that an unknown fund had given him "access to a high-yield BTC farm" and suggested that anybody who was interested in the yield farming potential might message him.
"I've maxed out what I could, so there's some leftover allocation, and I thought I'd pass it along — priority will be given to UST victims. DM for more details if interested," he wrote.
Even though the post garnered a lot of criticism for being a hoax, according to FatMan, he still managed to raise more than $100,000 worth of BTC in just two hours after the initial post on Twitter and Discord.
FatManTerra disclosed that the investment scheme was a scam in a tweet on Tuesday, calling it an "awareness campaign" to highlight how simple phrases and lofty investment returns may be used to deceive people into investing in cryptocurrency.
"I want to send a clear, strong message to everyone in the crypto world — anyone offering to hand you free money is lying. It simply doesn't exist. Your favourite influencer selling you quick money trading coaching or offering a golden investment opportunity is scamming you," he added.
Reiterating that "free meals don't exist," FatManTerra claims to have now returned all of the money.
PraSaga Finally Gets U.S. Patent for Blockchain O.S.
A new release from the USPTO on Tuesday claims that blockchain firm PraSaga, based in Switzerland, has received a patent for its "SagaOS" operating system, which runs on the blockchain. The methods detailed in U.S. Patent No. 11436039B2, with the title "Systemic Extensible Blockchain Object Model Comprising A First-class Object Model And A Distributed Ledger Technology," have to do with processing multiple message passing transactions via blockchain.
Smart contracts now only permit the processing of one transaction or action at a time. However, PraSaga asserts that its secret techniques, which are covered by the patent, can enable the execution of more activities simultaneously and more frequently.
According to the SagaOS team, they intend to build a native SagaChain operating system that will house the class trees and logic for smart assets maintained in individual SagaChain accounts.
David Beberman, the co-founder of PraSaga, commented on the development as follows:
"SagaOS is going to improve the ability for developers to create applications, manage their codebases, and address real-world challenges. We set out to address parallel processing of transactions and in the process built a method for writing blockchain applications that more closely matches other applications environments."
New Blockchain Feature Tops Opensea Weekly Chart
Over the past seven days, the most traded asset on nonfungible token (NFT) exchange OpenSea has been Ethereum Name Service (ENS) domain names, reportedly ahead of the Ethereum Merge.
OpenSea statistics indicate that at the time of writing, the weekly volume of the Ethereum domain NFTs exceeded 2,249 Ether (ETH), surpassing RTFKT Clone X's 1,992 ETH and Bored Ape Yacht Club's 1,777 ETH.
On the Ethereum blockchain, ENS increases convenience amongst users as they no longer need to copy and paste a long wallet address; instead, they simply share their domain name, just like they would any other address, e.g. "Redot.eth", "Zuckerberg.eth"
The average price of ENS products has increased 167% to 0.3895 ETH, or $641 at the time of writing, as a result of the recent surge in ENS trading activity, while daily volume has increased from 120.7 ETH to 1044.6 ETH.
Also, more than 508,000 users currently possess more than 2 million ENS products on OpenSea, and 2,682 ENS domains have been sold overall.

*This communication is intended as strictly informational, and nothing herein constitutes an offer or a recommendation to buy, sell, or retain any specific product, security or investment, or to utilise or refrain from utilising any particular service. The use of the products and services referred to herein may be subject to certain limitations in specific jurisdictions. This communication does not constitute and shall under no circumstances be deemed to constitute investment advice. This communication is not intended to constitute a public offering of securities within the meaning of any applicable legislation.