This week, markets continued to show a mixed performance. The S&P 500 index marginally rose to a new year-to-date high, but technology stocks slightly dipped. Alphabet (Google) and Meta (Facebook) rallied after their quarterly reports, while Microsoft modestly declined after acknowledging that AI monetization will not occur very quickly. Bond prices tumbled as US macro data indicated strong GDP growth in the second quarter and renewed strength in the housing market. Consequently, the 10-year US Treasury yield increased to above 4%.
The Federal Reserve increased the key rate by 25 basis points as expected, and signaled that its future policy path will continue to depend on macroeconomic data, particularly on inflation and labor market trends. On the other hand, the European Central Bank took a more unforeseen approach, surprising the market by signaling a pause in rate hikes come September.
The S&P index failed to rise meaningfully above last week's high despite positive quarterly reports from major companies, strong macroeconomic data, and the Federal Reserve's dovish stance. This could potentially indicate a double top pattern.
S&P 500 index

Cryptocurrencies continued their decline, with both Bitcoin and Ethereum down by approximately 3% since last Friday's close. XRP saw a larger drop of about 8%. However, Dogecoin advanced by 5% on news of a potential Twitter rebranding and the possible introduction of financial services within the platform.
The implied volatility for both Bitcoin and Ethereum plunged to new all-time lows. Ethereum's implied volatility remained slightly below Bitcoin's, as measured by the DVOL indexes. Meanwhile, option open interest continued to recover following the expiration on June 30.
Bitcoin DVOL index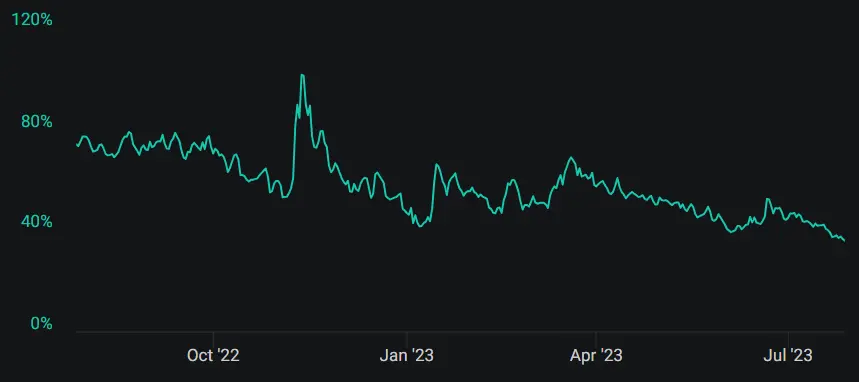 *This communication is intended as strictly informational, and nothing herein constitutes an offer or a recommendation to buy, sell, or retain any specific product, security or investment, or to utilise or refrain from utilising any particular service. The use of the products and services referred to herein may be subject to certain limitations in specific jurisdictions. This communication does not constitute and shall under no circumstances be deemed to constitute investment advice. This communication is not intended to constitute a public offering of securities within the meaning of any applicable legislation.