Avalanche (AVAX) vs Solana (SOL): Which One Is Better?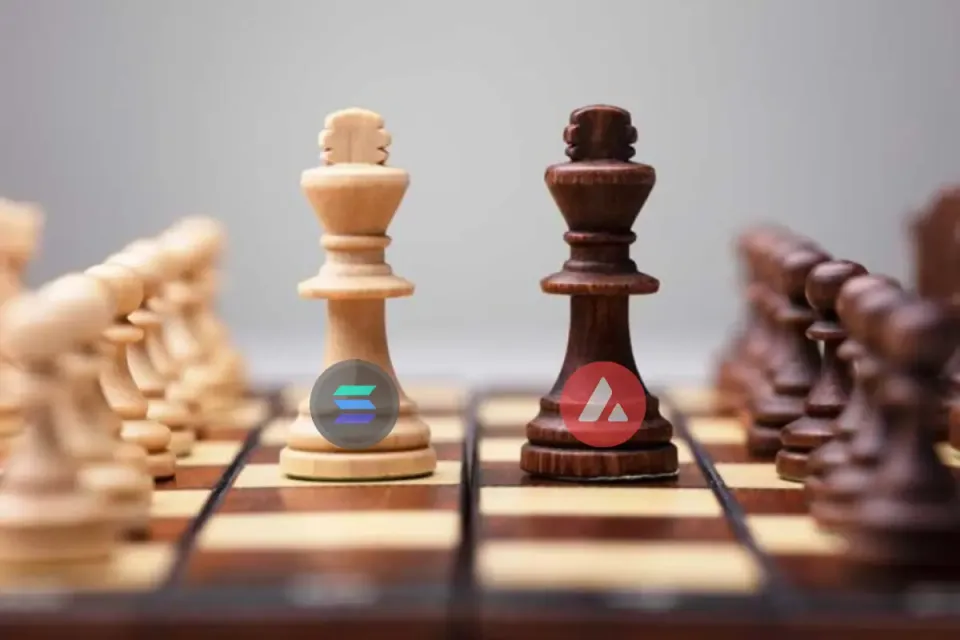 Avalanche and Solana are among the top blockchain networks in the industry. Their popularity skyrocketed in late 2021 and 2022, with hundreds of thousands of users and dApps (decentralized applications) joining their ecosystems. As of the time of writing, both cryptocurrencies have a market cap of over $4 billion, giving them a place in the top 20 cryptocurrencies.
Key Takeaways
Both Solana and Avalanche are highly scalable alternatives to Ethereum
While both projects can boast of high transaction speed, Solana's TPS is much higher
Thanks to EVM support, it is easy for Ethereum programmers to code on Avalanche
From the long-term perspective, both projects seem to have much potential due to their strong fundamentals.
Avalanche vs Solana
*TPS — transactions per second
What Is Solana?
The Solana blockchain is a layer-1 decentralized blockchain created by Anatoly Yakovenko under Solana Labs in 2017. It operates using the proof-of-history consensus (PoS variation), a less energy-intensive model, and can do up to 65,000 TPS with an average block time of 400-700 milliseconds. This has cemented its status as one of the fastest Blockchains in the cryptocurrency market and an attractive option for DApps.
Since its inception, more than 15,000 Decentralized Applications have been built on the Solana network, and its token, SOL, is one of the largest cryptocurrencies by market cap.
Anyone can be a validator on Solana, although it comes at a huge computing expense. The blockchain also has strong community backing, with many developers, investors, and users actively participating in the platform.
What Is Avalanche?
Developed and run by Ava Labs, Avalanche is a robust, highly scalable, customizable, and secure blockchain platform. It uses a PoS consensus mechanism and seeks to gain relevance in developing a wide range of DApps that are permissionless and scalable.
It was originally built to bring solutions to the limitations of the Ethereum blockchain, which is why it is referred to as an 'Ethereum killer.' The Avalanche ecosystem can perform transactions at a very high speed (approximately 4500 TPS) and allows several subnets to achieve consensus at once.
Avalanche's time to finality is one of the blockchain's most crucial yet frequently disregarded characteristics. It can perform approximately 4500 TPS with an average block time of 2-3 seconds, and finality is reached in less than a second. By employing the Directed Acyclic Graph, the Avalanche POS network is suitable for a large number of businesses and retail transactions.
Similarities between Avalanche and Solana
Avalanche and Solana are different projects from a technical point of view but have a number of similarities.
Scalability
Both blockchain projects are highly scalable and have high throughput. They can perform a large number of transactions efficiently without any major hitches or problems. Average block generation takes about 0.5sec on Solana, while it takes 3-4 secs on Avalanche.
Open Source
Both platforms run an open-source system and can foster seamless blockchain development. Being open source means that their codes and programs are made available to the general public and can be reviewed by anybody at any time. This serves as a form of credibility and increases trust.
Decentralization
Both blockchain ecosystem is decentralized, and they allow the development of a wide range of DApps. Although Solana's decentralized status is arguable due to its reliance on its foundation, the Nakamoto Coefficient reveals it is more decentralized than some of the more popular blockchains. The validator node developments of both protocols also hint at their decentralization.
Ethereum Alternatives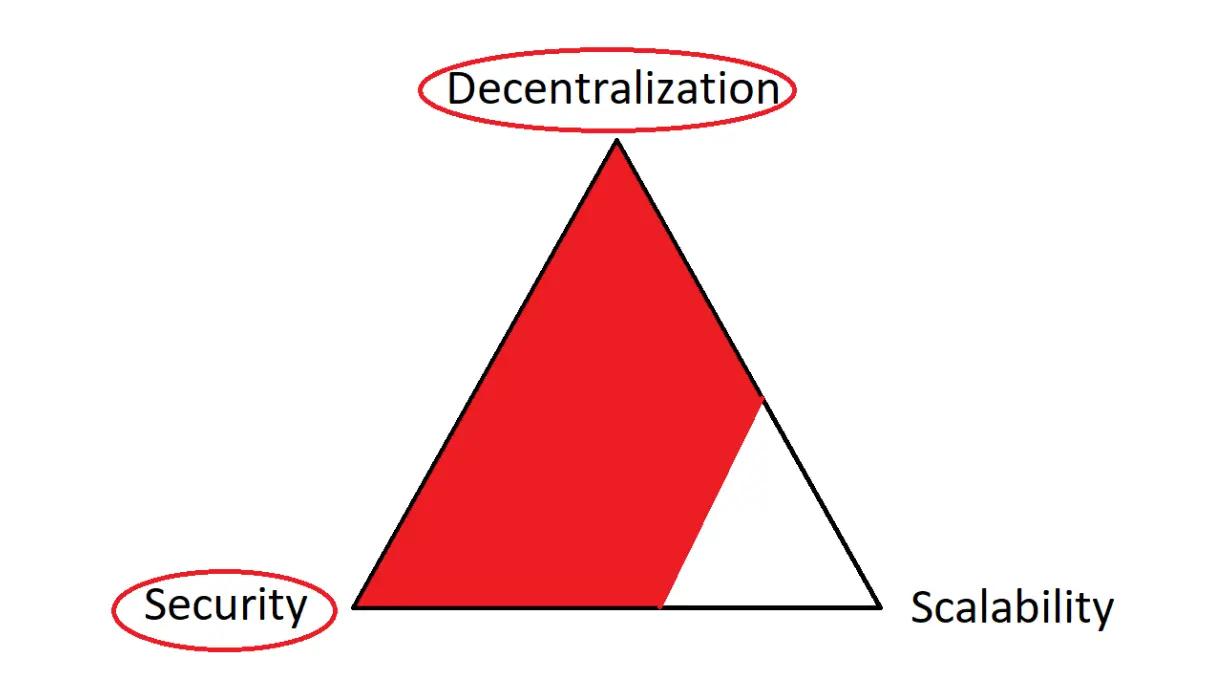 Lastly, both Solana And Avalanche were created to combat the Ethereum network's limitations, such as high transaction fees, and generally provide a better alternative for developers and other blockchain users. So far, they have not been able to usurp influence from Ethereum, with regular downtimes putting a dent in their goals.
Tokenomics SOL and AVAX
Tokenomics is an important factor behind the value of digital assets or tokens. It is an economic model of a token — AVAX and SOL are the native tokens of the Avalanche and SOL blockchains.
Avalanche vs Solana: The SOL Token
SOL is the native utility token of the Solana blockchain of the SPL standard (the same as ERC-20 on Ethereum). SOL is used in staking, which is an important part of the PoS consensus mechanism. Also, the fees for executing smart contracts and conducting transactions within the Solana blockchain are paid in SOL.
The Initial token distribution of Solana (SOL) is as follows: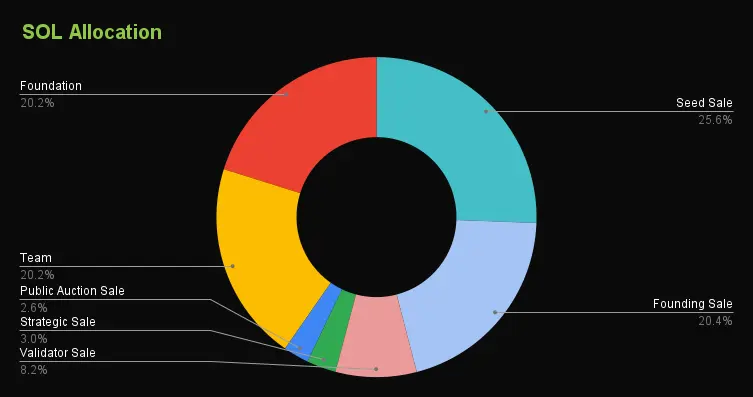 Seed Sale — 15.86% ;
Founding Sale — 12.63%;
Validator Sale — 5.07%;
Strategic Sale — 1.84%;
Public Auction Sale — 1.60%;
Team — 12.50%;
Foundation — 12.50%;
Community Reserve — 38.00%.
The maximum supply of SOL is not limited. However, Solana regularly burns SOL paid as fees to neutralize inflation. At the moment, the circulating supply of SOL coins is 363,230,372.53 and the total supply is 534,816,709 SOL.
Avalanche vs Solana: The AVAX Token
AVAX is the native utility coin of the Avalanche platform and is also used in staking. It also serves as the common unit of account for all subnets and is used to pay transaction fees. In addition, the coin allows holders to participate in the network's management.
The Initial token distribution of Avalanche (AVAX) is as follows: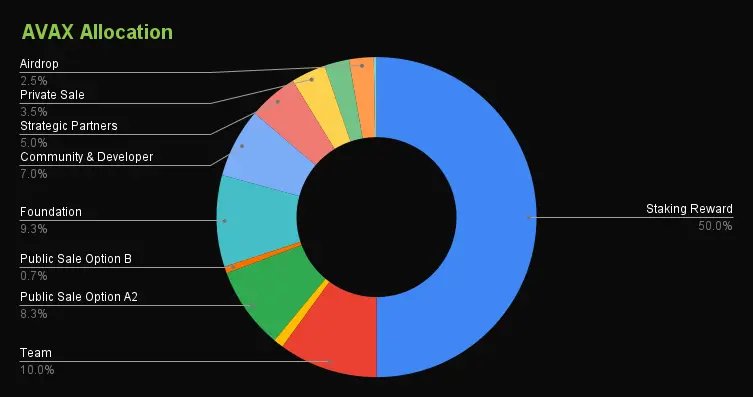 Staking Reward — 50.00%;
Team — 10.00%;
Public Sale Option A1 — 1.00%;
Public Sale Option A2 — 8.30%;
Public Sale Option B — 0.67%;
Foundation — 9.26%;
Community & Developer Endowment — 7.00%;
Strategic Partners — 5.00%;
Private Sale — 3.50%;
Seed sale — 2.50%;
Airdrop — 2.50%;
Testnet Incentive Program — 0.27%.
The maximum supply of AVAX coins is 720,000,000. Currently, the circulating supply of AVAX coins is 310,080,397.90 and the total supply is 404,229,626 AVAX.
What Is The Difference Between AVAX and SOL?
Both Avalanche and Solana strive to increase the level of decentralization by significantly increasing scalability. The most significant difference between the two is that Avalanche supports the EVM (Ethereum Virtual Machine). Solana, on the other hand, is not compatible with EVM at the moment. But there is a solution called Neon EVM which creates a compatibility layer for Ethereum on the Solana blockchain.
We will provide more details on this and other differences below.
Transaction Speed
One of the important indicators of the blockchain's performance is transaction speed. With its higher throughput, Solana significantly outperforms Avalanche. While Solana can potentially process 50,000-65,000 transactions per second (TPS), Avalanche's maximum TPS is only 4,500. Although at the moment, both blockchains are far away from these numbers, Solana still theoretically has faster transaction speeds — 3000 TPS versus Avalanche's 15 TPS. For reference, BTC can process 7 transactions per second.
Avalanche Vs Solana - Smart contract design
Perhaps the most critical difference between Avalanche and Solana is that Avalanche smart contracts are written in Solidity and are compatible with Ethereum. Moreover, its C-Chain blockchain supports Ethereum Virtual Machine (EVM). C-Chain allows the creation of smart contracts and performs the same actions as on Ethereum, using its API. Ethereum's developers can easily migrate to this new, faster platform.
Solana's developers took a different path and created an independent system. Smart contracts in Solana are essentially pieces of software called "programs", which are executed on-chain. Developers can use languages such as C and C++, as well as one of the best programming languages, Rust.
Avalanche Vs Solana - Staking rewards
Since both projects run on the PoS consensus algorithm, network validators are rewarded with the chain's native cryptocurrency. Currently, Avalanche has an annual rate of return of 8.69%, and Solana — of approximately 8.41%. Nonetheless, these stake rewards are relatively good for token holders.
Avalanche Vs Solana - Price performance
Let's look at the SOL and AVAX price movements in 2021 and 2022. During the bull phase in 2021, SOL was up more than 17,000%. But during the next bear market and the collapse of FTX and Alameda Research, the SOL price collapsed by 94%.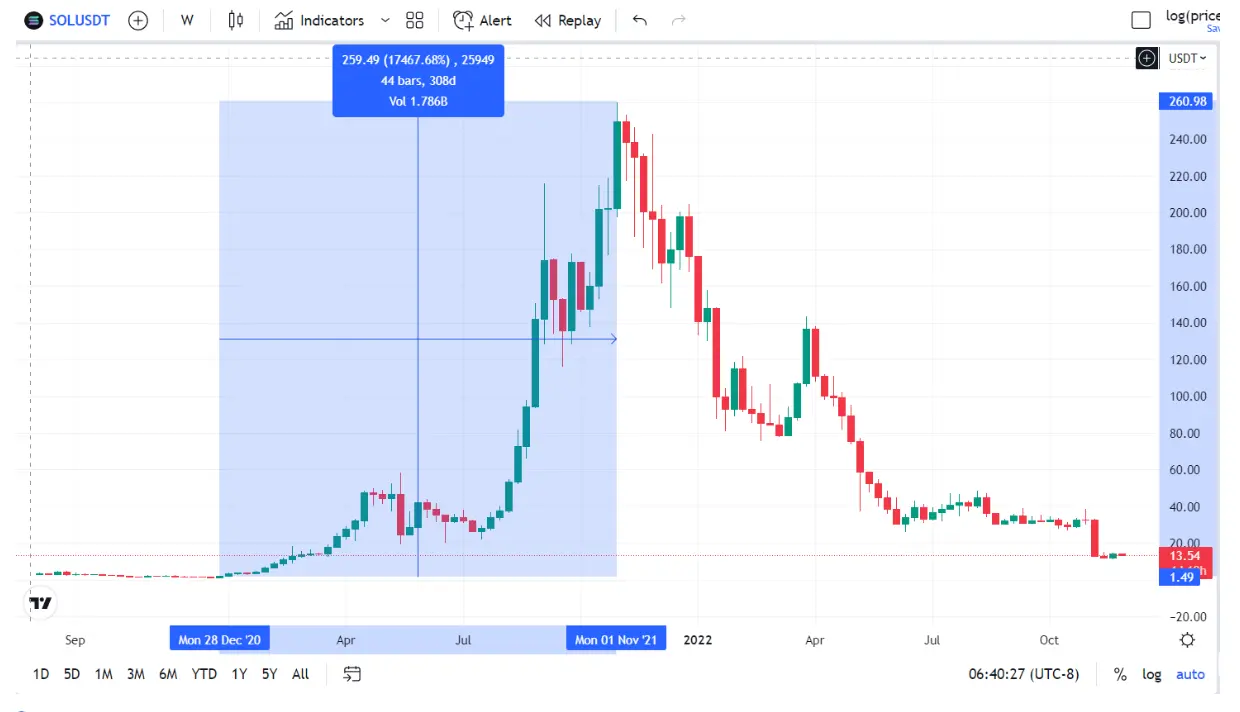 During the bull phase in 2021, AVAX was up more than 5,000%. But on the bear market, like SOL, it collapsed 91%.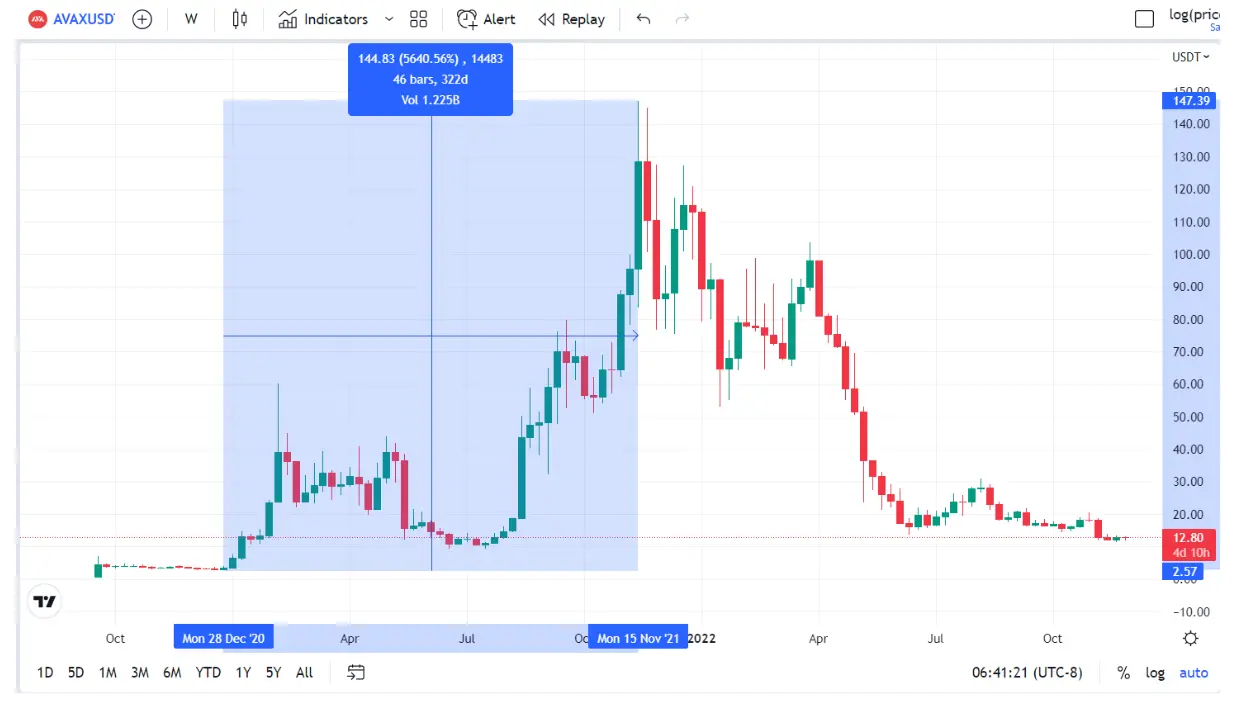 Solana (SOL) outperformed Avalanche (AVAX) more than three times in 2021 and 2022.
However, historical performance is no guarantee of future results. Moreover, it is often better to base your investment decision in a fundamentally strong project that is undervalued.
NFT Marketplaces Comparison
Both AVAX and Solana have thriving NFT ecosystems where millions of dollars are traded daily. According to DeFillama, there are 261 unique NFT collections on Avalanche and 2,404 — on Solana.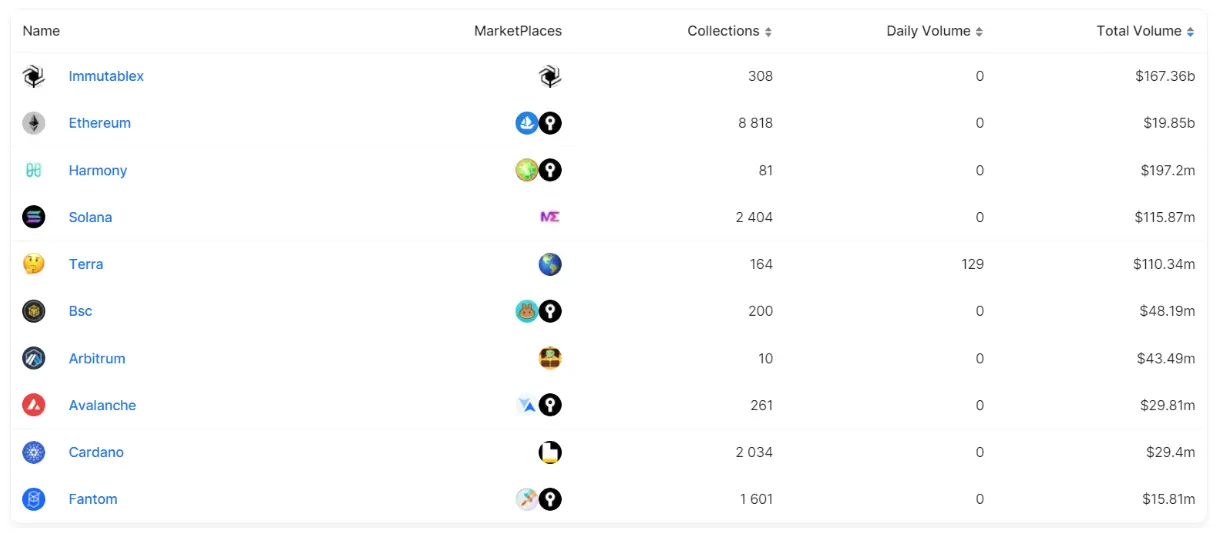 Solana also has more NFT trading volume than AVAX, with $115 million in trading volume, compared to Avalanche at $43 million.
Magic Eden is one of the most popular Solana NFT marketplaces, and it is more popular in the crypto community than its Avalanche alternatives, like Joepegs.
Is DeFi better on AVAX or Solana?
Both Avalanche and Solana have some of the largest decentralized finance ecosystems on the market. However, the TVL (Total Value Locked) on Avalanche is $957.59M, while on Solana it is $291.57M. This is largely due to Avalanche's EVM compatibility, which allows such popular DeFi projects as Aave crypto, Curve, and others to run on it.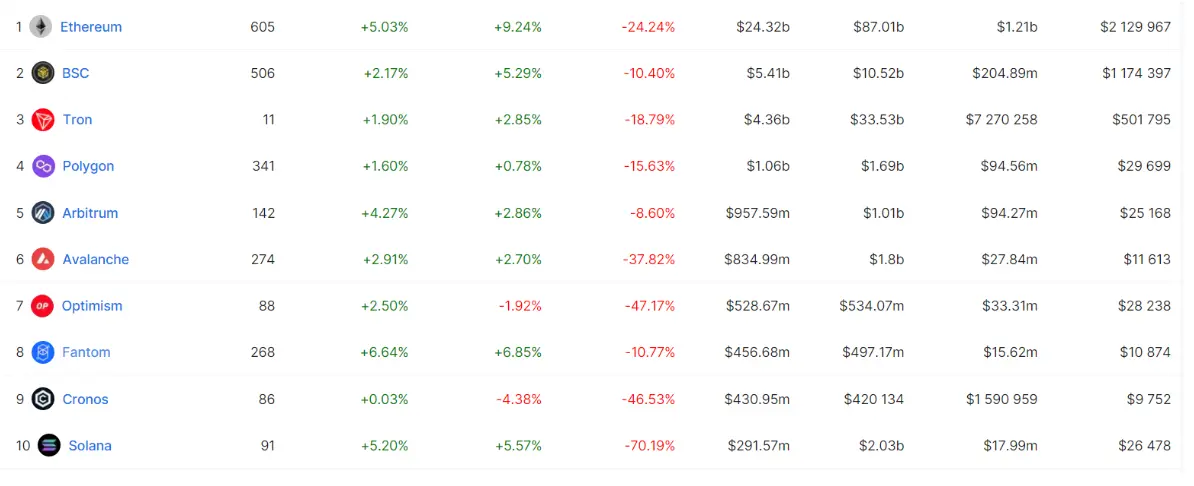 Solana is mainly used for new original projects which are not connected with the Ethereum ecosystem. Avalanche, on the other hand, takes advantage of its compatibility with Ethereum, taking over its users and capital.
How Can Luna Come to the Equation?
One of the main competitors of both Solana and Avalanche for some time has been Terra (Luna), ranked #2 in TVL among blockchains. However, due to the collapse of UST, the entire ecosystem of this project suffered. After the LUNA fork, its TVL rolled back behind the 40th place.
The Future Potential of SOL vs AVAX
Let's start with AVAX. It shows much promise, especially over the long haul. And here's why:
By integrating subnets, Avalanche can scale horizontally and allow protocols to create application-specific blockchains. In March 2022, the Avalanche Foundation announced a $290 million incentive program to accelerate subnetwork development.
Avalanche integrates the most popular DApps. A large portion of Ethereum's assets is moving to Avalanche.
AVAX is constantly being burnt. This feature was introduced back in 2021. All commissions from transactions in AVAX are burned. This burn should have. an extremely positive impact on the price in the long run.
Thus, AVAX has strong fundamentals and is considered to be a good long-term investment, especially due to its governance.
Despite the fact that Solana is not technologically inferior to Avalanche, SOL was largely knocked down by the collapse of the FTX exchange. As Solana was one of the FTX investors, the price of SOL fell by 53.8%.
However, the good news for the project is the imminent launch of Neon Labs EVM on Solana. It will allow Solana to enter the competing Ethereum ecosystem. Deploying an EVM for Solana means that Ethereum-based projects can easily code on Solana. Some of the Ethereum DeFi heavy hitters, including Aave and Curve, are getting ready to use Neon's long-awaited EVM.
Also, despite the overall decline in the cryptocurrency market, the average number of validators in the second half of 2022 rose 19.4% to 1,875. The Nakamoto coefficient rose to 27, up from less than 20 in 2021. The network's increasing scalability is increasing its stability.
Thus, the SOL coin retains high growth potential, and its blockchain outperforms its closest competitors in a number of parameters.
Final Thoughts on Avalanche vs Solana
AVAX and SOL belong to two fundamentally strong projects. Technically, Avalanche and Solana are not alike, and in different ways solve Ethereum's shortcomings in scalability and transaction speed.
Avalanche could be a worthy competitor to Ethereum due to its sophisticated blockchain architecture. At the same time, Solana could have a successful future by competing with VISA, thanks to its extremely high throughput and ability to perform thousands Of transactions. The maximum Solana can process is up to 65,000 transactions per second!
In terms of past price movements, Solana performed better than Avalanche. However, past results do not guarantee future results. It's hard to say which one will outperform another in the long run.
It is worth noting that AVAX founder Emin Gün Sirer previously worked on Bitcoin and Ethereum solutions. He also designed his own peer-to-peer cryptocurrency concept 6 years before bitcoin came along.
That said, the importance of Solana founder Anatoly Yakovenko should not be diminished. Before launching Solana, he was a well-known software engineer at Dropbox.
FAQ
Why Is Avalanche Better than Solana?
Avalanche has an elaborate network architecture consisting of three blockchains. Its compatibility with EVM (Ethereum Virtual Machine) allows popular Ethereum DApps to run on Avalanche, which facilitates high liquidity in the project.
What Is Better Than Solana?
This is a complicated question that cannot be answered unambiguously. Solana's main competitors include Ethereum, Avalanche, Fantom, Polkadot, and others, and although the Solana network has been plagued with congestion and downtimes, it still ranks high in the crypto market.
Is Avalanche Better Than Ethereum?
Each project has its pros and cons. Although Avalanche offers higher transaction speeds and lower fees, Ethereum's transition to ETH2.0 could be the solution to that network's problems. The success of ETH 2.0 could be crucial to Ethereum's future, and that of Web 3.0.
Is Avalanche an Ethereum killer?
Experts often refer to Avalanche as the "Ethereum Killer" due to its promising features for developers, users, and investors alike. However, the list of potential "killers of Ethereum" includes a dozen other projects, and it is too early to talk about Ethereum's "death".
*This communication is intended as strictly informational, and nothing herein constitutes an offer or a recommendation to buy, sell, or retain any specific product, security or investment, or to utilise or refrain from utilising any particular service. The use of the products and services referred to herein may be subject to certain limitations in specific jurisdictions. This communication does not constitute and shall under no circumstances be deemed to constitute investment advice. This communication is not intended to constitute a public offering of securities within the meaning of any applicable legislation.