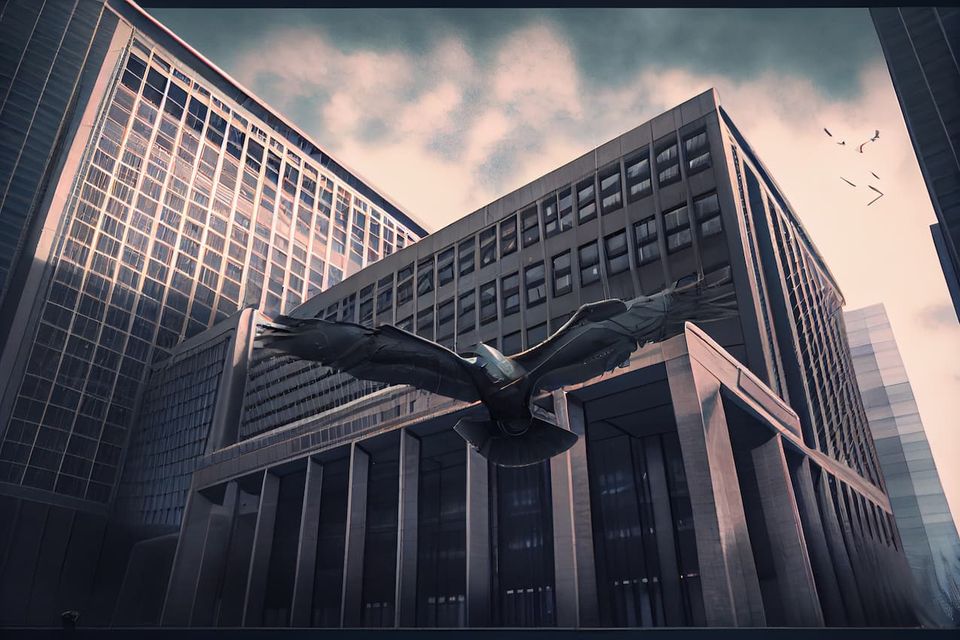 Crypto Market Week in Review (10 March 2023)
Markets
This week stocks stopped being resilient to higher rates and declined. Short-term dollar bond yields increased (bond prices fell) to a new cycle high, but long-term bond yields remained below the last-year maximums. The yield curve became even more inverted, suggesting a deep recession ahead if history is any guide.
The key news of the week was a hawkish testimony by the Federal Reserve Chair, who opened a door to a potential acceleration of rate hikes from 25 bp to 50 bp in the case of strong macro data.
Ironically, hedge funds and other speculators decided that a 15-year maximum of 2-year US Treasuries yield is a particularly good time to bet on even higher yields, amassing record wagers against 2-year US Treasuries futures.
2-year US Treasuries Yield and CFTC Speculative Positions in Relevant Futures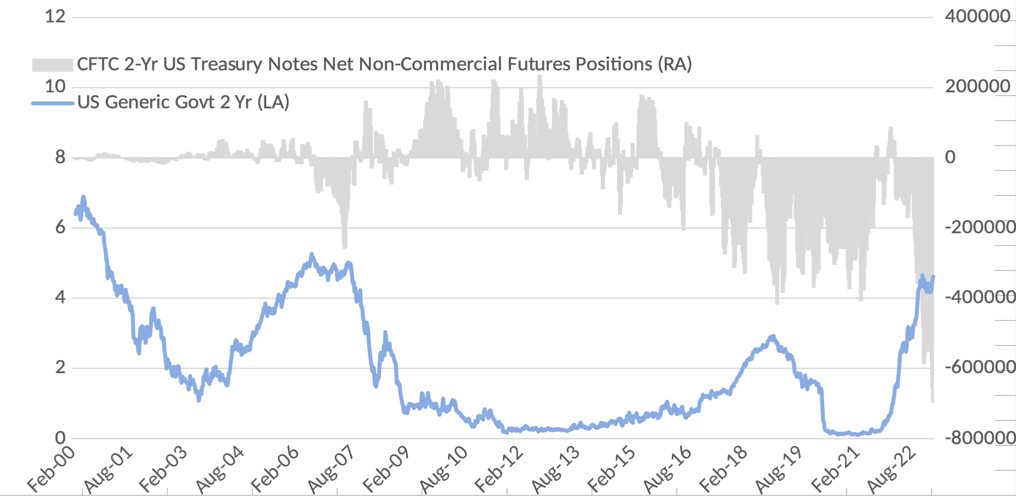 Silvergate contagion hit traditional finance, as a venture-focused US bank SVB Financial Group announced a share issue in order to shore up a balance sheet after huge losses.
Cryptocurrencies declined, reacting both to a general risk-off and continued worries about Silvergate contagion. Both Bitcoin and Ethereum dropped by about 10% since the last Friday's close. The most significant crypto-specific news of the week was postponing the Shanghai update to April.
Despite lower crypto prices, Grayscale Bitcoin Trust (GBTC) reached the highest level since September due to positive news in its long war with the US authorities about converting the fund into ETF. GBTC discount to NAV dropped to 34% from 45% as of last Friday.
Grayscale Bitcoin Trust (GBTC) Discount to NAV

The implied volatility of both Bitcoin and Ethereum sharply increased on Thursday, March 9, when the news about SVB Financial Group hit both crypto and traditional finance, but so far it remains in a recent range.
Bitcoin DVOL Index
*This communication is intended as strictly informational, and nothing herein constitutes an offer or a recommendation to buy, sell, or retain any specific product, security or investment, or to utilise or refrain from utilising any particular service. The use of the products and services referred to herein may be subject to certain limitations in specific jurisdictions. This communication does not constitute and shall under no circumstances be deemed to constitute investment advice. This communication is not intended to constitute a public offering of securities within the meaning of any applicable legislation.