Blockchain technology has provided an efficient way of fostering trust and transparency in different industries. From art and music to finance and record-keeping, it is fast becoming part of our everyday lives. While the advantages of blockchain are glaring, interoperability could be one of the factors that lead to more adoption.
Fragmentation is how best we can describe the interoperability issues facing the blockchain. As new projects are born daily comes the realization that no one project can solve the blockchain's issues. There is a need to combine the perks of different blockchains, with one complementing the other.
According to Coinmarketcap, there are over 10,000 cryptocurrencies on different blockchains, but very few of these crypto projects can relate to one another regarding data sharing or transferring digital assets. This is just one of the ETH blockchain limitations. Also, there is a huge barrier between the programming process of integrating wallets and dApps.
One solution has been able to address these issues to a large extent. In this article, we will look at what WalletConnect is and how it has improved interoperability in the blockchain space.
What is WalletConnect?
To keep cryptocurrency safe, a wallet is vital. Wallets can be seen as a portal to enjoy the benefits of different blockchains, but switching between existing wallets on different dApps has been rather difficult. Wallets like Trust wallet and Metamask are popular and have been vital as a one-stop wallet for monitoring most dApps. However, navigating through them might seem difficult for new project entrants in the blockchain field. This is where Wallet connect comes in.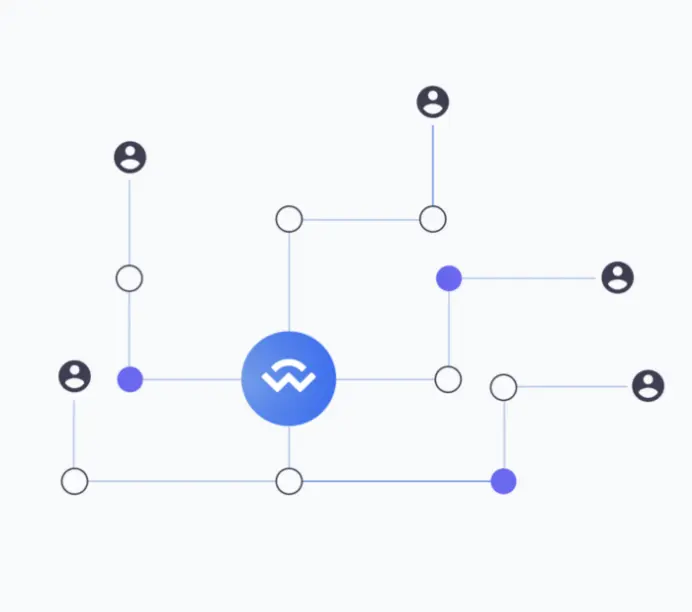 Although it has been widely misconceived as an application. Instead, it is an open-source protocol that connects different wallets to dApps. It establishes this connection with these wallets and dApps through a deep link or QR code. The connection is done symmetrically using a shared key of the two peers. One peer (either the dApp or the wallet) sends the code, which the other approves.
Created in 2018, It now has a presence with over 100 wallets and clocked over 150,000 downloads earlier in 2022. Creating an easy and safe connection between wallets and dApps decreases the barrier to entry for new dApps and helps users access a wide range of platforms with a single click.
Apart from connecting dApps with wallets, It also does a variety of other things to aid the adoption of the blockchain space.
By supporting a wide variety of chains, WalletConnect is a one-stop shop for working with many unrelated blockchains. E.g., Solana and Ethereum. There is still more room for growth, and we will see the addition of new chains soon, according to its official website.
From just one wallet, you can simultaneously use multiple chains. However, It is not the only platform that allows multi-chain integration. Other platforms include Wormhole, Vent Finance, Umbria Narni Bridge, etc.
The protocol is also platform agnostic. This means you can use it across different interfaces; desktop, mobile, and even gaming apps.
Further, the WalletConnect messaging layer shares bandwidth for all its users enabling a direct messaging protocol for its wallets to message each other. Also, this functionality allows for a push notification to signal off-chain and on-chain activities.
Why Should I Use WalletConnect?
If you are looking for a convenient way to manage your routine financial activities, WalletConnect is one sure-fire way. Apart from the easy one-tap entry into the world of DeFi 2.0 through your mobile phone, its open-source nature means it helps improve the management of the coins by allowing users to bridge the gap between their wallets and dApps.
Imagine you could buy NFTs, trade crypto, enjoy play-to-earn games, and stake/ farm crypto from just one device. That form of comfort is what these "wallet connector to dApps" brings. It is a convenient way to enjoy Web 3.0 safely. How can we do this? Let's find out.
Before Walletconnect, many Ethereum dApps focused on having their browser interface to be connectable with wallets instead of improving the capabilities of their dApps. This has changed due to the platform's innovative approach. Projects can now focus on iterations and developments using an encrypted QR code that shares just enough information to create a connection between a desktop dApp to a mobile wallet.  
The WalletConnect v2 now allows you to use your wallets on your mobile browsers as you use your web browser. Using a deep link, you can establish connections across two web applications or two mobile applications.
Another exciting reason why you should use this platform is its multichain support. With its latest version, the v2, you would be able to use different wallets and different chains conveniently.
On the part of the developers, the process of submitting dApps to the WalletConnect Registry is easier and less stressful. Instead of using the Github issue, the time needed to review submissions is reduced to a bare minimum by allowing developers to post into a cloud registry. These submissions are reviewed and can be rejected, kept pending, approved, or even kept in draft for revisions and edits.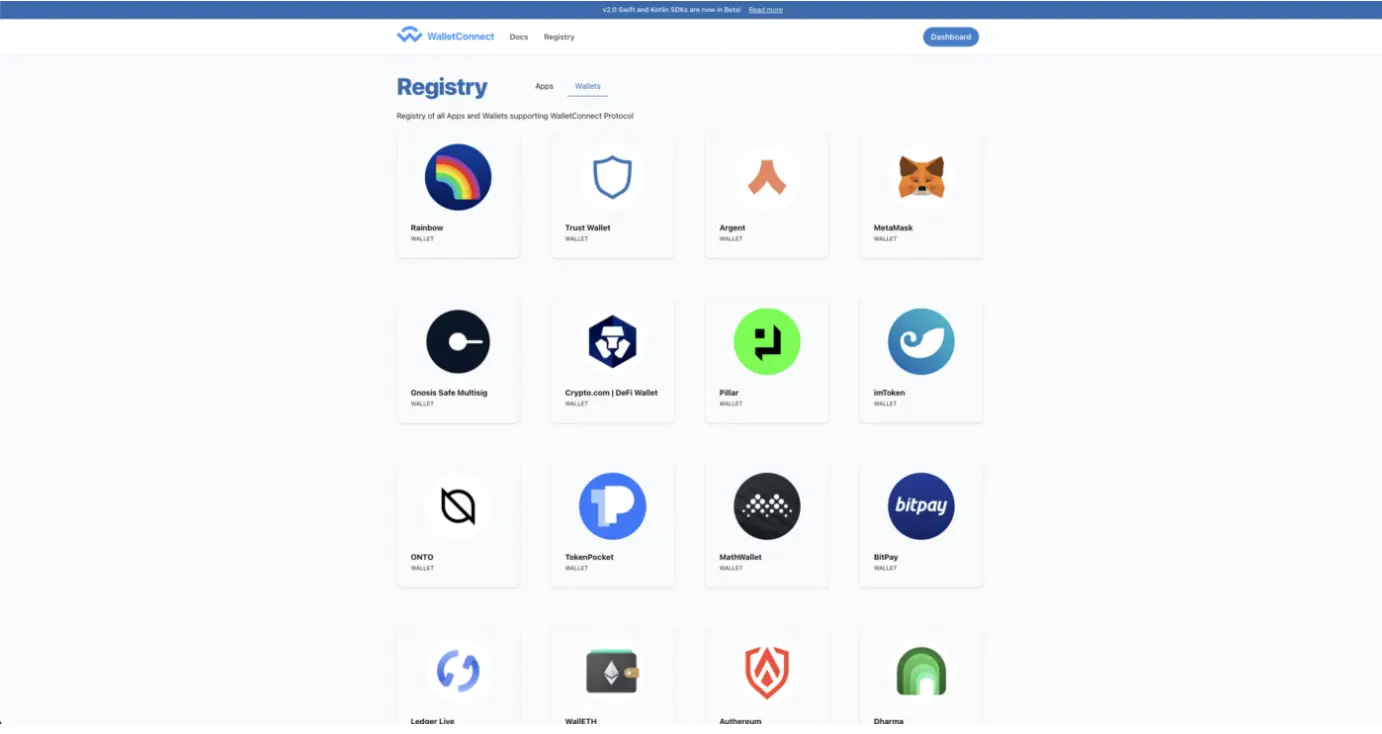 How Does it Work?
It is worth noting that WalletConnect is an open-source protocol, meaning the original code can be freely distributed and amended. This is advantageous because if one protocol is to bridge every crypto DeFi wallet to dApps, a lot has to go into research and development. Using the open-source means, the rate of inclusion and adoption is faster.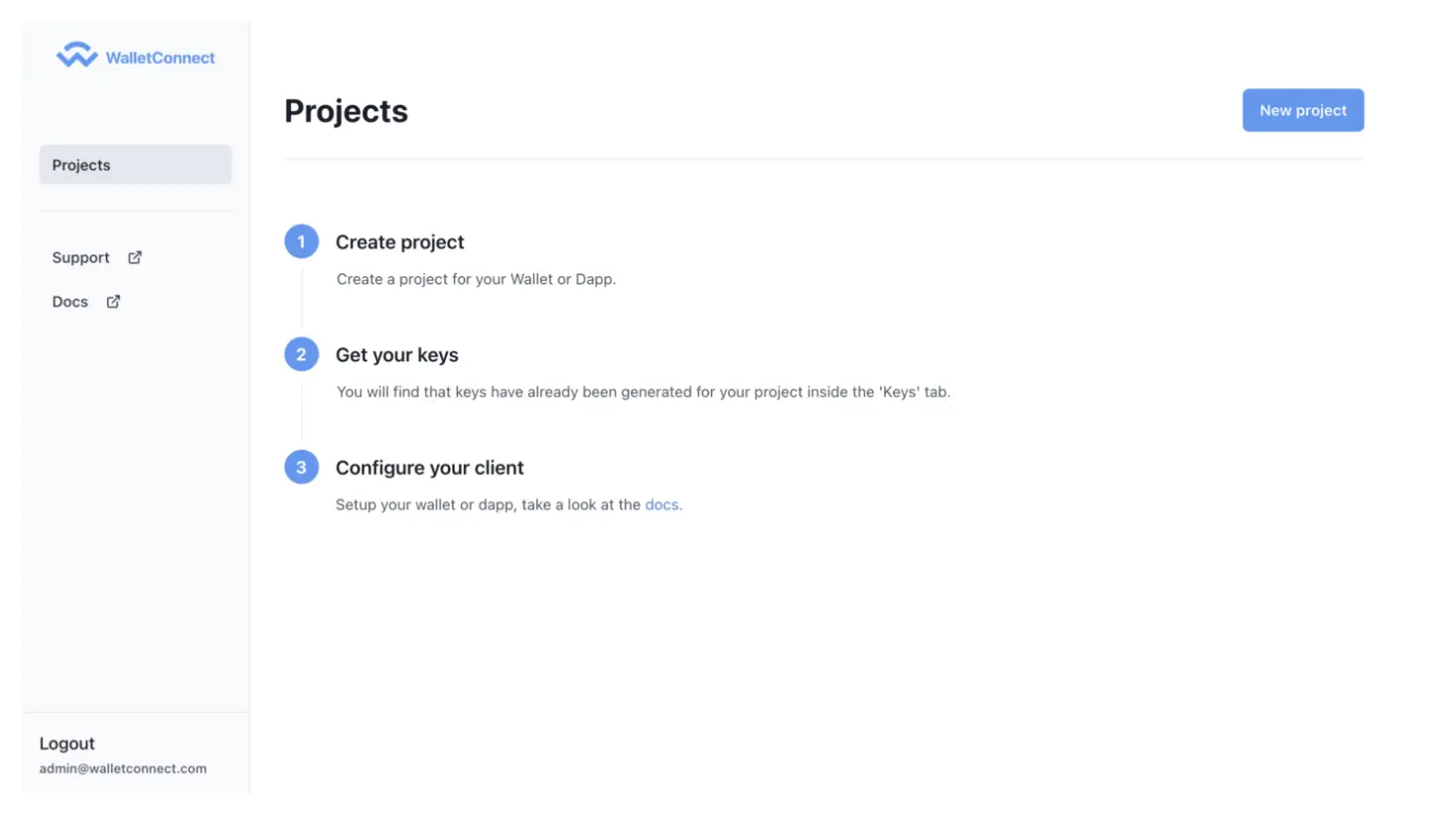 While it brings a lot of DeFI into a working synergy, the platform is not built on the blockchain. This accounts for why it does not have any native token of itself. Instead, it fosters inter-protocol communication through the help of a bridge server. The bridge server's only role is to send information between protocols, which are designed so that the information is anonymous. This information is masked using QR codes or a wallet-dApp deep link.
Before the introduction of Wallet connect, there were three major ways users could connect dApps to wallets. The first is by using Ethereum browsers, although the development of this plan is hampered due to the funds having to remain on one platform (either mobile or desktop). There are also the security risks involved with changing views from desktop to mobile or vice versa, hence the popularity of the other two methods; mobile wallets and Metamask.
The disadvantage of using Metamask to connect your crypto wallets to dApps is that while it is an online wallet that does not keep users' information, the browser through which you access your Metamask wallet keeps these records and can be susceptible to hacks.
These risks have been considered and addressed with WalletConnect, and the only requirement to access the wide dApp ecosystem is just an internet-enabled mobile device.
Since the platform acts as an open-source intermediary, no extra charges are involved with using this protocol. This poses an interesting change in an industry plagued with diminishing returns from extra fees.
Although many believe that multi-chain support is the most important part of the v2, it does not have as much effect as the protocol's session management. The two areas of session management that have improved include request history and explicit expiries. The upgrade on the latter involves a Time to Live (TTL), which has been changed from its default week-long sessions due to either or both parties not communicating the end of a session.
Using WalletConnect, Connect Trust wallet to dApps
Wia WalletConnect, you can connect your Trust wallet to dApp. Let's take PancakeSwap as an example.
To connect the service to Trustwallet, follow the highlighted steps
Visit the PancakeSwap website on your browser (make sure you are on the legitimate PancakeSwap website. There are many lookalikes)
Click on the "Connect" button in the top-right corner of the screen.
Click the "Wallet Connect" option.
A QR code will appear.
Now, go to your Trust wallet on your mobile device and click on settings.
Click on the Wallet connect tab and create a new connection.
Scan the code appearing on your PancakeSwap page
Within 10 secs, your Trust wallet will be connected on PancakeSwap.
The same process goes for Opensea, Sushiswap, and many other dApps.
There is a possibility that Walletconnect and Trust wallet may have compatibility issues. If you encounter errors like "Wallet Connect not working" or an unresponsive page while connecting your dApps to Trust wallet through the wallet connect portal, there are a few factors to consider,
You probably are using an older version of Trust wallet. Then you need to upgrade your Trust wallet to a newer version, which hopefully helps resolve the problem. This method could also work if you get a blank response whenever you try to connect dApp to a Trust wallet.
You may also encounter error messages if trying to connect with an old version. If the WalletConnect on the dApp is not up to date, there could be some connection issues connecting to Trustwallet. You can also message the dApp developers to upgrade the wallet connect protocol from their end.
Is Wallet Connect Safe?
Regarding its primary role of securely linking wallets to dApps, WalletConnect can be considered a safe platform since all activities on the platform are with your permission, and any other activity involving dApps requires your consent.
The major risk with this platform is in the number of lookalike platforms trying to mirror WalletConnect since it is an open-source platform. Like every other financial activity, keeping a good safety routine is also necessary when using WalletConnect. One of such is disconnecting your wallet from any dApp when you are done. Furthermore, it is your responsibility to verify the legitimacy of the dApp you intend to use. It only acts as a bridge.
Another safe but "not-so-common" practice is to restart your app when you have left the app idle for a while.
Conclusion
The initial goal of the Platform was to develop a more convenient library to connect dApps to mobile wallets. Over time, the vision increased to help developers create a better user experience between Wallets and their dApps.
Users are flocking to WalletConnect since the platform offers the desired level of security and reliability in the crypto market. The issues of connection failure have also been dealt with to a large extent, and we expect to see more wallet integrations to add to the existing 100 wallets.
Without a doubt, the benefits of convenience, interoperability, and ease Walletconnect offers solves some of the crucial needs of the blockchain industry. Crypto users can better enjoy the cryptocurrency world at their fingertips and enjoy routine, hassle-free transactions, be it NFT staking, DeFi, or regular crypto trading.
As the interoperability of blockchains continues to develop, we can expect to see even more innovative uses for this technology. If these projects are successful, it could mean big things for the future of blockchain technology.
*This communication is intended as strictly informational, and nothing herein constitutes an offer or a recommendation to buy, sell, or retain any specific product, security or investment, or to utilise or refrain from utilising any particular service. The use of the products and services referred to herein may be subject to certain limitations in specific jurisdictions. This communication does not constitute and shall under no circumstances be deemed to constitute investment advice. This communication is not intended to constitute a public offering of securities within the meaning of any applicable legislation.